Back in the days before the constant barrage of asking to upgrade to Windows 8.1, we used to have Microsoft Golf. I was a wee one and had yet to develop my handicap of 50+. However, I learned the basics of the Royal and Ancient game through this masterpiece of 90s software, specifically the concept of a mulligan.
If only they had been able to hook this into multiplayer on my AOL dial-up.
Unfortunately, triathlon doesn't really offer mulligans. There are other races, but you don't really get to redo a race the way you get to redo a shot in Microsoft Golf (or real golf). Unfortunately, I would LOVE one after this weekend.
Meredith and I left for the beginning of our Tour de Midwest after work on Wednesday before the race, eventually making it to Milwaukee on Thursday night. The day before the race, we spent some fun time with some local friends before a nice relaxing evening.
Lotsobikes. My baby Fit is much more utilitarian than it appears.
Race morning started off with an exciting time of double flat tires, being threatened with a penalty for being in transition a minute before it was supposed to close, then finally waiting around close to 3 hours for my wave.
Listening to Brad talk about how great he is
I didn't feel great or "excited" to race per se, but I wasn't willing to admit it initially. I lost contact with the main lead group of my wave about 400-500m into the swim, so I ended up leading the second group. Initially I was ok with that, though in hindsight based on the results, I should have absolutely been in that lead group. I just wasn't aggressive enough early in the swim.
No false start inducing vuvuzelas this year.
A similar thing played out on the bike, with me just not being aggressive enough. I let a large group more or less go, seeing the entire 22 minute swim group forgetting that the Tour of America's Dairyland was in June. However, I let that piss me off a bit too much and I rode again, flat and crappy the rest of the day.
Well, at least my cornering looked ok.
The run felt pretty decent for me at first. I accidentally surged against a guy I was running with to take the lead through an aid station, but then I paid for that for another 5 miles. Maybe it wasn't the actual surge, but it was just the flatness overall on the day. Regardless, I did not run well, which was extremely disappointing after a subpar swim and bike.
Fortunately this photo came during one of the less rough patches.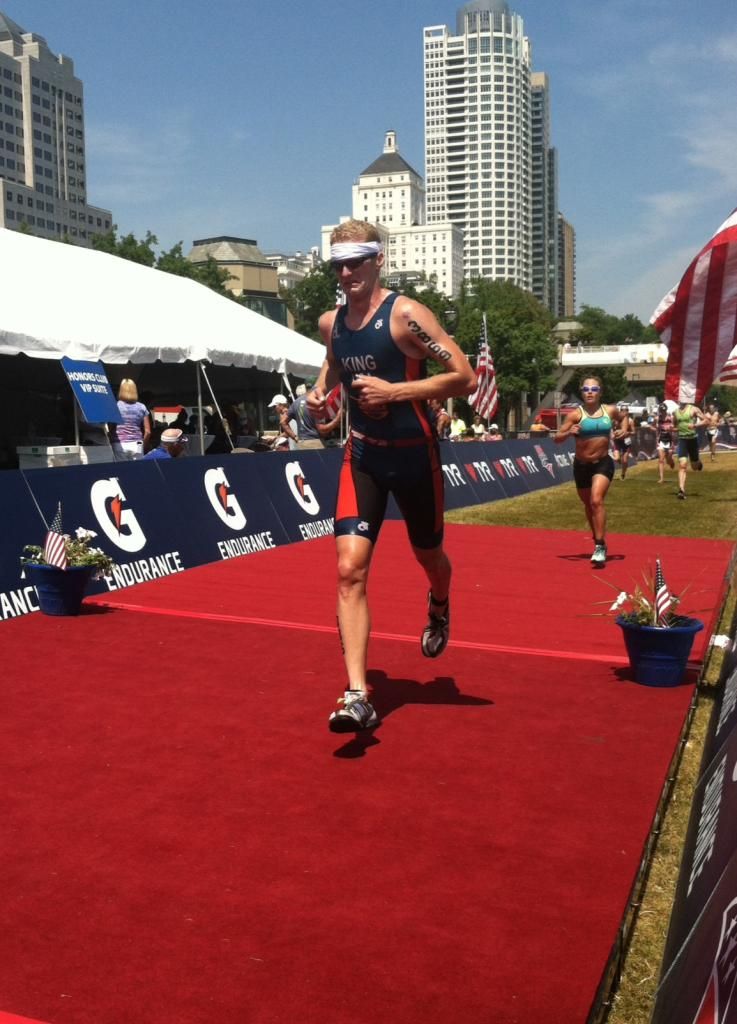 This one didn't.
I was pretty bummed about my race. The best way to describe it, that nothing was off-the-charts bad for me. Leading the second swim pack, biking a 61, and running a 41high are all on the bottom end of "normal" for me. Heck, I could have done one of those and still had a "good" race, but doing all 3 of those things just compounded for an absolutely horrendous race for me, one that caused me to really think for a day or two.
Fortunately, my role quickly shifted to being support for Meredith, who was racing the sprint the next day with some of our friends. It was really good to see them just out having fun, not being overly serious. Meredith had a blast, with this being her first "big race" experience, and her first time ever running the whole 5k off the bike.
Proud and happy :)
We were never both in tri kits at the same time, but after my spectator duties were over, I got changed and ready for a quick recovery/mind clearing spin along the lake. Notice the diversity of local bike shop representation.
At the end of the day, nobody else there had a shirt with a rainbow unicorn with rainbow sparkles on it, even though every single person there wished they did.