Technically, I am writing this post in the middle of July, and one of the races it covers took place on May 31, but I'm calling it June because, well that was most of it. Armed Forces Tri Championships, Rev3 Williamsburg, and Tri, Tri Again: all very different races. For good measure, there was also a time trial thrown in there.
Armed Forces was, as
last year
's, one of the neatest races I've done. I absolutely love the team atmosphere, and it's probably the most competitive race nobody's ever heard of. I mean that. It takes place on a military base that's in probably one of the most "middle of nowhere" spots you can get by Southern California standards, so there aren't a whole lot of spectators outside of some family members of the San Diego-heavy Navy team.
Team Navy. We did this BEFORE Air Force did...just like we wore blue before them we (the Navy and CG) had aircraft before them, etc etc etc...
Anyway, leading into the race, I was really feeling confident in my running and was hopeful that I would have a better race than last year. When the gun went off, I got absolutely manhandled for the first 200m of the swim. I briefly noticed a couple of my teammates, Kyle Hooker and Brad Pigage (one of the other coasties racing for Navy), and tried to stay with them. Then Kyle was gone up with the lead pack, and shortly after the first turn buoy, I noticed Brad wasn't on my feet anymore either. Very, very quickly I found myself in absolute no-man's land, caught between the 5-man group and the swarm behind me.
Such athletes
Eventually it split up into a duo and a trio, with more of my guys up the road. I got out of T1 with Brett King of AF about :10 back of me, but otherwise it was a minute to anybody in front or behind. I could just barely eek out the specks in the distance of the trio ahead of me, so I got into my shoes quick and hammered early, but then realized I wouldn't make it. Instead, I sat up and looked around for Brett, seeing if he had any interest in bridging up. I ever so briefly contemplated riding the whole race solo, but realized that was a terrible decision. Ultimately, I was still there for a team role, and riding solo would do nothing. Instead, I sat up and let the group behind me catch up. Over time, the group swelled and swelled with the bulk of the field entering T2 together, except Brad Williams from Air Force who managed to attack our group and get away. On the very last lap, after some hard chasing of breaks, blocking, and lots of yoyoing, I got myself ever so slightly gapped off the back and never was able to latch back on. I felt like an idiot, but ultimately I knew I'd done my job to help get all of our scorers up the road and with the main field entering T2.
My run wasn't spectacular by any stretch, but I felt stronger than I expected. The course was a little on the long side and a lot on the windy side. In the end, we won as a team, which is what I was most excited about. I came away from the race with the realization that as much as I'd like to, it's not realistic for me to try to run to a top finish from the main field; it's gotta happen from being with the breakaway group up the road. Even though my swim is my strength, it's apparently not strong enough for this race based on my abilities. If I had a 33 minute run in my back pocket it may be a different story, but for now, that's the hand I have to play.
Meredith sporting the All-Navy Sports motorcycle jacket
Two weeks later was Rev3 Williamsburg, another race I did last year. With Rev3 dropping its pro purses and doing a $4,800 "all-comers" prize purse, this meant it would be a mixed pro-am field. After some disagreement with the officials about what constitutes a legal swimskin for a USAT race, I got into the water. The swim broke up rather quickly again, with most of the pros and a younger athlete breaking away, and again me in a little bit of no-man's land. I led
James Haycraft
most of the swim, eventually catching up with Ben Williams who had fallen off the leaders' pace at some point. A super-long run as is customary for any Jamestown Island-based triathlon (Patriots, Jamestown Intl, and Rev3), and it was off onto the bike. For the first time really ever, I tried the novel concept of pacing the bike by power. Because this race was lower priority for me, I tried going on the conservative side, riding well under the power I'd ridden in a 23 mile standalone TT the week before. This meant giving up a couple spots on the bike, not something I'm that used to. I don't necessarily have the fastest bike split; in fact I rarely do. However, most of the time I have a good enough swim that I like to "respond" when I get caught. Usually that results in my horrendous run splits, so I was trying something else.
"Brb just gonna run 1/3 of a mile to my bike"
Heading out onto the run I was pretty sure I was in 8th place. I was way off of the leaders, and with some winding gravel trails, I couldn't see anybody for the first 2 miles of the run. This also meant objectively measuring my run would be a little tougher, as no winding, hilly gravel trail run is easy to compare to other run splits. It was nice to give the legs a little bit of a breather from pavement all the time though, and it kept me interested. Eventually popping out of the woods, I started to figure out my gaps. For once, I thought I might actually be gaining on the guys in front of me, though I wasn't sure. I ran the second lap of the course hoping I just might have enough ground to make up on 6th or 7th place, but didn't realize how close 9th had gotten. After exiting the woods for the second and final time, with a little over a mile to go, I realized he was closing quickly. I thought just maybe I'd be able to throw in a surge after the turnaround to get him to give up. Nope. Instead, he kept making up ground. I threw in another surge around a turn with about 400m to go, still losing ground. At that point I made a conscious decision to slow up just a bit. I thought about it, and if I went full gas until the finish line, he just might pass me anyway and I may be too gassed to respond. Instead, I decided to "rest up" a bit before turning it on for a sprint, because I have usually been pretty confident in my sprint if I'm able to use it. Right as I could start to hear his breathing, so probably within a second or two of me, it was less than 200m to go, and I went. Sprints are always a mix of fun and misery, and I realize it was for 8th place, but that's better than 9th place.
Turns out I was able to open quite a gap, but he was definitely closer to that only 10 seconds earlier.
The following weekend was an extra-fun trip, up to Pennsylvania, New Jersey, and New York. For the first time, we took the dogs on the road trip with us, which was interesting to say the least. They had a ton of fun, I think.
Bailey was an excellent navigator who insisted I listen to his advice rather than the GPS in my car.
A rare site for Tate not to be in a coma in the car
For more about Tri, Tri Again's format, course, etc, see
last year's report
where I explain in a level of detail only fitting for a political science major without a major writing outlet. Similar to last year, a relay runner took off immediately never to be seen again, but then I was all alone early. I just kept plodding along, trying to run smooth on the absolutely brutal course. I was a bit more accurate with data collection this year, and run times seemed to range from 17:30 to 18:30 for a course of about 2 miles. There is nowhere to get a solid rhythm going for much more than 10 seconds. This year, with better fitness overall, I was able to pretty much run the whole thing, as opposed to last year which had several designated walk spots. As for the bike, I haven't been on my mountain bike much at all, but I'm again just stronger, and this is certainly a power man's course, as long as you have the cojones for the "hill of death." I did make the decision this year to go with tri shoes and road pedals, one that usually proved smart because I never had to unclip, and they were much quicker to get in and out of. My nutrition of choice was, again, Haribo gummy bears and some watered down Gatorade purchased at a gas station the night before. This is how I plan for 3 hour races, only because I haven't figured out a way to effectively eat a rice cake PB&J in a triathlon the way I do on long bike rides.
The swim was each time a welcoming refresher as well.
One of these is a little more competitive than the others....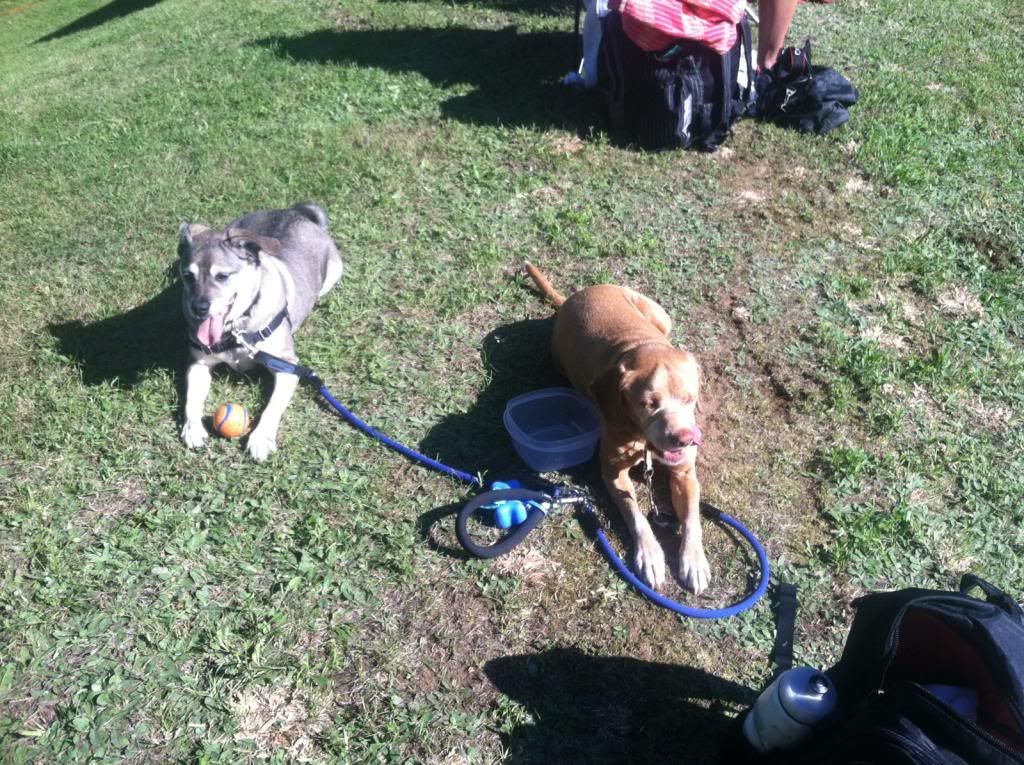 Tied for my #1 fans, with Meredith and mom, of course. They're louder than Meredith or Mom though
The always awkward mountain bike-to-swim transition, which involves carrying your run shoes over to the swim finish/run start area while putting on goggles. It's not easy.
Last year I was able to do 5 loops in just over 3 hours, including a flat tire on lap 1. With last year's fastest loop time being just under 35 minutes, I figured that starting a 6th lap before the 3 hour mark was a reasonable but somewhat of a reach-type goal. After I clocked off the first two laps in 34 minutes and change, I knew I was right on pace, as I figured out I could do all 36s and one 35, and I would start my last lap at the 2:59 mark. (For a quick primer, you can finish any loop after the 3 hour mark, but each lap must start on the top of the minute. If you finish your swim at the 2:59:04 mark, bummer) I kept on going on the third lap, but my calf was still feeling a little residual tightness from Rev3 the week before. Lap 4 ended up being a little on the slow side, removing a bit of my buffer time, but I started lap 5 with room to do a 37 and change to start 38 minutes later. I went out a little on the hard side and got a little risky on the more technical sections of trail, grabbing onto trees alongside the course far more than usual to whip around turns and the like. Each section of rhythm-able trail, I made sure to absolutely hammer it before running into the next area where I needed to slow down. I was near the end, figuring out that I was just ahead of the pace I needed to be, when I reached one of my favorite parts of the course, a downhill steep enough that I've gone down it on my butt every time. As I started to stand up, I felt a popping sensation in my calf, forcing me to hobble/limp the rest of the way through the course. At that point, I feared that I'd jeopardized my chance at a course record, as well as possibly even the rest of my season, but I kept going. Fortunately at that point, I had no major hard running left, as I knew I could either just feel satisfaction in having finished 5 loops in 2:59, or maybe my calf would come around for a slower victory lap on lap 6. I absolutely HAMMERED the bike for the last time, knowing that I had to make up for slowing down on the run. I came in off the bike to cheers of nearly everybody there, as apparently Mark the race director had made everbody aware that I had the chance to break the record. Calf still messed up, I hobbled over with my running shoes in hand, putting my goggles on. Mark yelled at me that I had 3 minutes to go. I hadn't paid a whole lot of attention to how long it had been taking me to swim the "150 yds" but I figured now was time to find out how accurate it was. I made sure as I neared the ladder for the exit to actually get up onto the deck rather than hit the wall like a swim meet. When I did that, the clock was just shy of 2:59:00, meaning I could just hobble over to the start line for the next loop, which I did. Then I stood there barefoot, shoes in hand, still wearing my goggles, catching my breath and trying to massage out my calf, because time no longer mattered.
Mark allowed Meredith to walk the run course with me, probably because he was concerned for my safety. Meredith was amazed by even walking it, to the point she questioned whether it was possible to run it in many spots. It was good to have her there as company though, because she was able to experience it a bit with me, and having her there kept me from being stupid and trying to run any part of it at all. My last loop was far, far slower than all the others, taking well over an hour instead of the usual 34 to 37 minutes, but I wasn't concerned. I got onto the bike for the victory lap, again to some cheers. I tried to go a little on the hard side this time if for no other reason than to avoid holding up the awards ceremony. Eventually I came back to cheers from everybody, which was AWESOME, before a little dip in the lake where I went wayyyy too deep. I slogged it into the wall, then made it up. It was pretty cool with everybody there.
Videos from the race:
And a couple more from the race's Facebook page
Running through an aid station on the 3rd or 4th lap
Late in the run on the 5th loop
, gives an excellent idea of how technical the downhills are
Diving in for the final swim
The rest of the weekend was a fun trip up to my parents' house, including a Yankee game.
Bailey was just as passed out as I was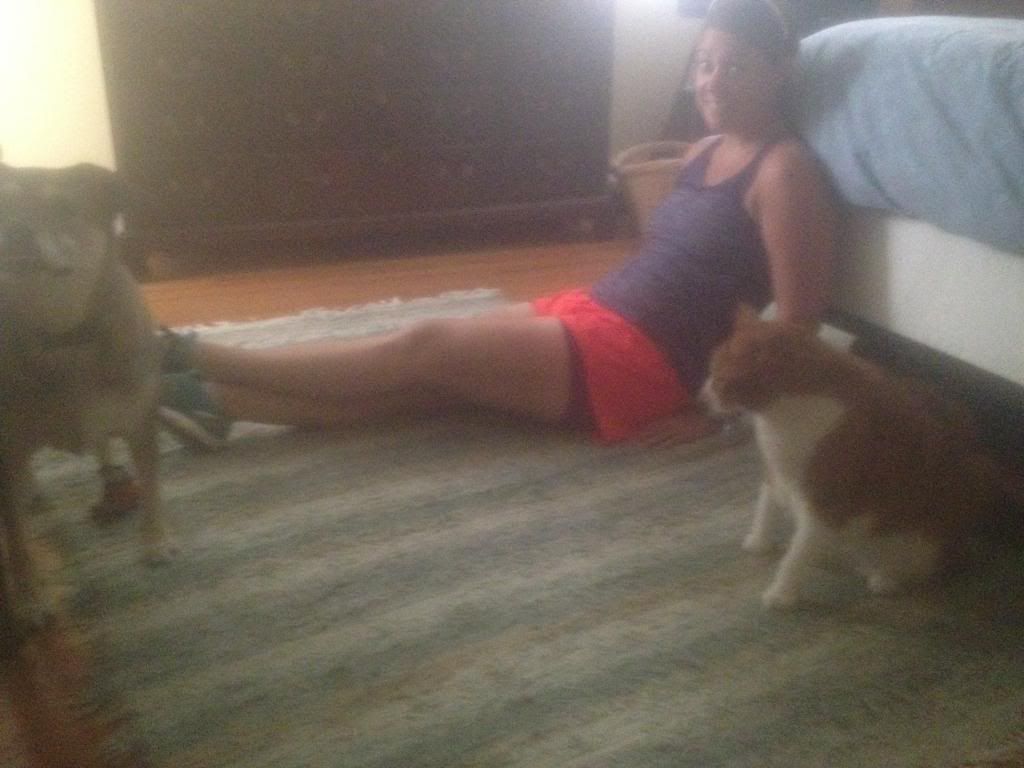 Bailey and Caesar were not friends
Yankee game!
So, aside from when he was trying to get team Navy to do more than our fair share of work in the bike pack (for which I don't blame him), I'm naturally very thankful for Coach Mace throughout this period of fairly successful racing. And, of course, Meredith for allowing me to drag her to Williamsburg at 3 in the morning and up to Pennsylvania/NJ/NY for a weekend.