Disclaimer: yes, this is over two weeks late and I've done another race more recently than this one. I was theoretically too busy studying for the LSAT (which I took today), but in practice that's not really true. I was just lazy and didn't look for the pictures scattered between iPhones, Twitter, and Facebook to make this post better. I wrote only 2 or 3 days after the race.
Leading up to this race, I was super-excited. I'd first heard/read about the
super sprint in California a couple of years ago
and have been following them pretty religiously, including a
couple more in San Diego
(video featuring Team Navy's own Derek Oskutis) and then the first one (I think) with a pool swim
last year in Las Vegas
. I was even more excited when only a few weeks before the event, USAT and Rev3 decided together to make it an Elite Development Race, meaning that there would be possible prize money and elite licenses on the line, all with the chance to mix it up with any pros who still decided to show up for a slightly smaller prize purse.
Because I was racing Armed Forces the next weekend in California, Meredith really, really wanted to make the effort to come for this race, so we made it a nice little weekend in Richmond. She decided to race it herself too, which I thought was extra-cool, and she definitely had a blast.
Friday included some standard pre-race affairs, including trying to figure out whether sliding down the ramp of the pool or just running down was faster, all while getting rug burn on my ass (leading me to decide to run down).
Modeling the new panda suit that Meredith bought me as an early birthday present...and I thought the fish/rising sun suit was "loud"
The EDR heat was not until later in the day, but I got to the race site before at least the first heat of the littlest of the little kids on Saturday morning. Remarkably, I was impressed by how smooth the majority of the racing seemed to go. That was a theme throughout the weekend; nobody was ever seemingly sure too far in advance how things would work, but Rev3 did a great job pulling together the actual swimming, biking, running, and transitioning.
I got to see Meredith's entire race in the prelims, which was enough to get her to advance to the final. At that point, she became my cheerleader as I got ready for my heat. Advancement to the Sunday final was top 7 per heat, plus the next best time. I found myself in the heat with 4 pros, so I was at least initially a little worried.
We started from what was allegedly a dive, but in my case it was really more of a belly flop/fall into the water. Swimming was rough, actually, with next to no lane-lines and no markers on the bottom of the pool. It felt very open-water-like in a lot of ways, except I wasn't able to sit in somebody's wake
J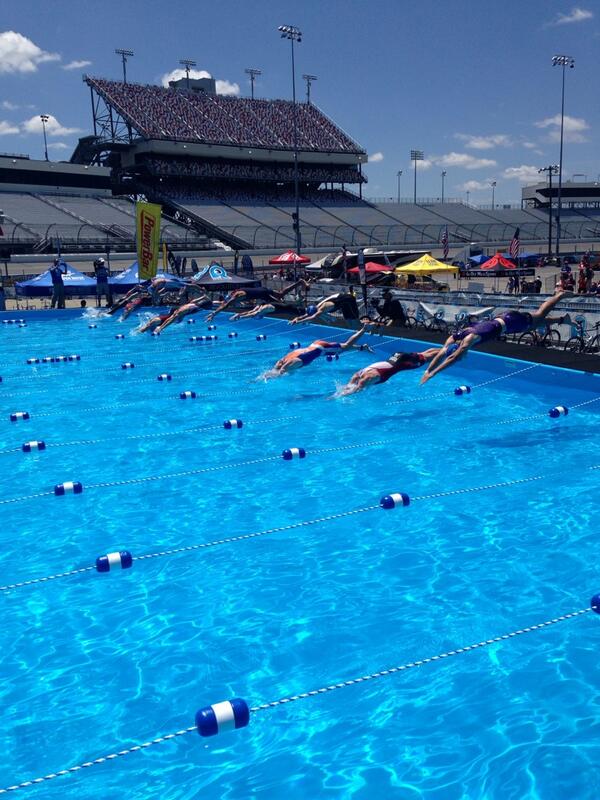 Photo from Rev3 of the start of Saturday's heat. Yea, we're not swimmers...
The transition was a bit scattered, with
Eric Limkemann
and
Colin O'Brady
exiting together, then a small gap to
Dan Feeney
, another gap to
Justin Roeder
, and then yet another small gap to me. I tried for close to half a lap to bridge up to Justin, but realized I was going nowhere and I had another rider coming up on me, so I sat up, got in my shoes, and began to work with
Ryan Siebert
. Eventually Ryan and I caught Justin, then eventually Dan, all with Ryan doing a large share of the work. With no lap-out rule, we were responsible for counting our own laps, leading to a bit of confusion on the last lap, and Justin and Ryan did a bit of cylcocrossing in and around pit row to get back into T2. Meanwhile, I saw Dan take off and Justin quickly flying by me. I was sitting fine in 5
th
, but was afraid of any super-runners coming off the bike behind me, but was able to shut it down and cruise the last half of the second run lap, finishing as the 5
th
in my heat and the first amateur.
Our little four-man group with Ryan drilling it up front as was the norm
Still with the chicken wing on the left arm...
What was supposed to be a "nice weekend in Richmond" turned into what all race weekends are, especially with multiple days of racing: napping/watching TV in the hotel even in really nice weather.
All smiles after day 1, because we knew we'd be racing day 2!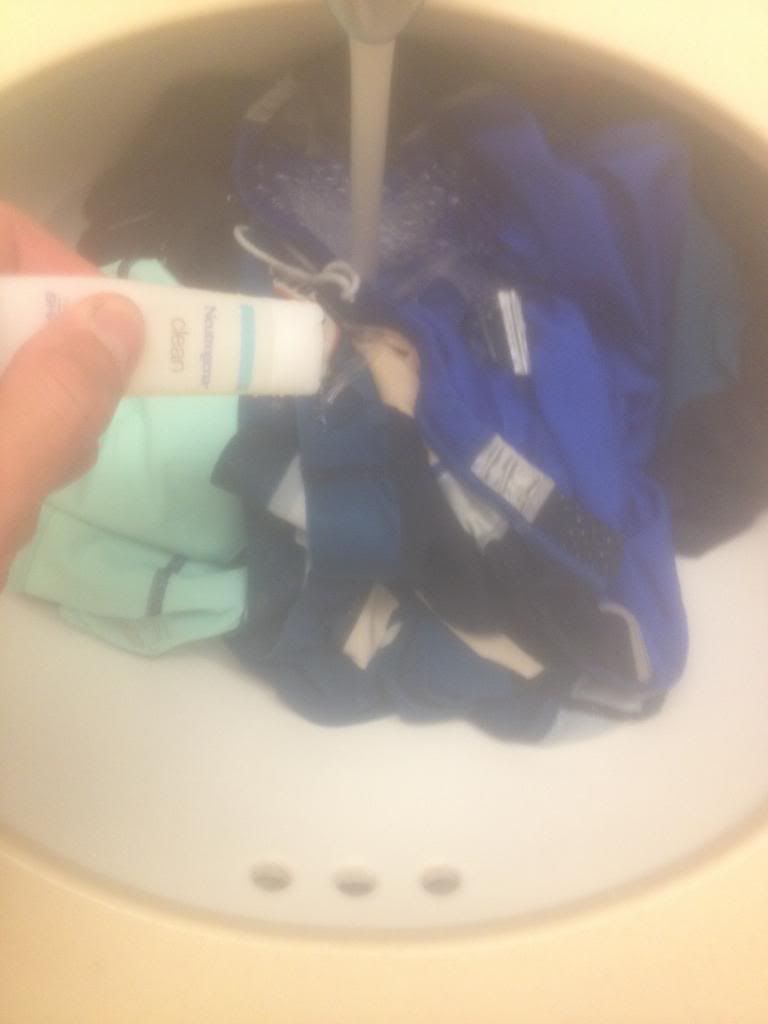 How to race back to back days: wash your tri suit in the hotel sink with the complimentary shampoo
The next day we got to the race site a little later, with my heat not starting until 1:30. For the finals, the format was swim-bike-run-swim-bike-run, which added a bit of complexity. The first swim was remarkably similar to Saturday's swim, with a couple of small gaps and me just behind Justin again. However, Ryan and I had a couple of guys on our tail early on the bike, who we worked hard early to drop. We spent the middle of the bike working to catch the big group at the front that contained virtually everybody, including all the pros and a couple of fast swimmer-runner juniors. We all came into T2 in a big group, and I was nearly one of the first back out of T2, except a quick little misstep where my shoe got a little stuck on my heel and Dan nearly plowed me over. I thought I could run with it, but after 100m, I knew it would be a terrible decision, so I had to quickly stop and fix it.
Dive start again for Sunday's heat
Coming into T2 with most of the race together
I was trying to hold on for dear life to at least Ryan and one or two of the juniors so I would have somebody to ride the second time with, although it seemed everybody was going farther up the road, despite my low 5-minute pace that had me gasping for air. A couple more guys ran through me as well, negating my swim as far as anything really mattered. I was beginning to realize that even though I shut it down on Saturday's run, I clearly did not sandbag the run as much as many of the other guys.
Hating life at the end of lap 1, run 1. Goggles and cap astutely tucked into the shoulder strap
With about 200-300m to go, I began taking my goggles and cap out from my shoulder strap and putting them on, which was difficult in itself, but I knew would be at least a little quicker than doing it standing still. I came into T3 only a few seconds behind Ryan, but had close to a 50m lead on him in the pool because he put his on standing still.
I floundered around in the pool, delirious yet somehow still counting my laps with thoughts like "ok, that's
John Kenny
, there's no way he's more than 100m in front of me because that's well over a minute" and "Well, I'm ahead of Ryan, but we're swimming the same speed. I don't know how that's going to help me count, except that I'll only do an extra 50 that way"
I got out of the water in absolute no-man's land. There was one other guy and a couple juniors a ways up the road that I was hoping I could just barely latch onto, but I noticed Justin Roeder instead was coming up on me to start his next lap. With no lap-out rule, we were free to work together, so I hoped to get him to help me bridge up to those other guys. I definitely did a lot more of the work, but I was grateful to Justin just to help take a breather and get a drink every few minutes. We began closing on the trio ahead of us and almost got them near the end of his lap 6/my lap 5 (of 7 laps), before a big group with again, nearly everybody in the race. At the turnoff for pit road, it was effectively the pro/amateur split, with all of the amateurs continuing on for another lap, while the pros went into T5/aka T2#2. Ryan took advantage of the little bit of disorganization with the departure of half the group, and attacked hard. I knew to get on his wheel as it was my only choice to distance myself from some of the stronger-running juniors, so off we went, taking hard, hard pulls to put a gap, making this the second time of the day we'd successfully (90% due to Ryan's work) gotten away from a group on a completely non-technical course. Ryan's strong.
With our little gap, Ryan and I got into T4 as 9th/10th place, or 3rd and 4th place amateur. With only probably two elite licenses on the line, pay out to 5th place, and most of the guys up the road with much stronger run pedigrees than either of ours, this became a race for pride, but good god it was painful. A couple of the little juniors ran through us anyway, with Ryan sticking a little better than I did with them, but it was all I could do to just keep them in sight again, hoping maybe I could stick a final sprint and surpass one or two. It was to no avail, but I would hardly call it a failure of a race. I crossed the line spent, and my near-collapse on a cool down run a few minutes late confirmed that I had nothing left. Justin was exceptionally grateful for my efforts, as it helped propel him towards the win, so I've got that at least, even the plan to help him win was made spur-of-the-moment to get him to help me too.
I learned quite a bit from this race, as it was really my first chance to race with some fairly experienced professionals, with Dan, Justin, and Colin all ITU regulars and Eric and John Kenny fairly successful non-draft athletes as well. The biggest takeaway is that, yes, my run is still my Achilles heel, though getting better. Maybe my place wasn't really a whole lot better, but I did run well enough to make the finals, and I did, at least in my eyes, "hang tough" the entire run.
Sitting on the wheel, doing zero work...like she's supposed to be doing
Annnnd she gets 3rd in her age group! To think, she didn't even want to race, and she gets her first individual podium in a tri...
As far as the rest of the weekend goes, there are some great galleries on Rev3's website, mostly from Sunday I believe:
Also there's another gallery, a subset of the images on
Slowtwitch
Lastly, Rev3 did a pretty good recap of the experience of the weekend here, with Meredith making her film debut, and me briefly leading Dan Feeney on the run about :24 into the video