Ready to tackle the most competitive, technical mountain bike triathlon course in all of South Jersey, my preparation for this race was absolutely flawless. Rather than spending hours on my mountain bike like most of my competitors and I did in my
previous
attempts at this
race
, I decided to forego such training, because specificity is overrated. I mean, everybody knows the reason more triathletes aren't faster is because all they do is swim, bike, and run, and they don't do enough strength work. After all, we're "
sorely lacking in speed, power, flexibility, accuracy, agility, and coordination, but [we've] sure got a lock on malnutrition
." So I decided to do lots of non-specific training for this A of all A races by riding my road bike. You could say it's because there are two sets of trails within an hour's drive of Virginia Beach, one of which is pancake flat and the other's only worth riding if you ride on the illegal "no bikes allowed" trails. You could say that the trails that are an hour away are actually more like 90 minutes on a weekday or summer afternoon when Busch Gardens are open. You could say all that, but I'd like to say it's because specificity be damned.
Every now and again, the construction crews in the neighborhood like to keep me guessing which bike to use.
I had an exceptional taper strategy, spending nearly all day, every day in the car in the several days before the race with minimal race-like efforts, not much sleep, and eating and drinking different from how I normally do, combining visits with both Meredith's and my families. I'm pretty sure that's what all of those books written on triathlon training in the late 90s that people continue to quote as Gospel despite countless medical and physiological studies to the contrary all say, at least. As far as I'm concerned, anything that's not available in the free Kindle preview of a book probably isn't worth reading anyhow.
Because my run's been struggling, I was fortunate enough to be blessed with a stomach bug the night before the race, shedding any excess weight a mere 4 hours before race start, including all the food I'd eaten the day before that was unable to digest. I knew this was a fool-proof strategy that would surely pay off.
I was fueled off half a banana, Pepto Bismol, and some ginger ale. I'm hoping Pepto Bismol will pick me up for sponsorship after this, as they're really missing out on a key market in endurance sports. I skillfully and strategically ripped a couple extra holes in my wetsuit when I put it on for the first time this season getting ready for the race. As we got in the water shortly before the start, I was happy to watch a number of people slowly creeping up well past the established start line because they most likely were entitled to swim a couple meters shorter than everybody else because they were special. After all, it really helped them to be in the lead group of swimmers for the first 12 meters before getting dropped. It was probably quite the experience, and I'm sure next time they'll be able to hold on the other 738. Running up the beach and onto the trail, I did, however, find one triathlete who was less in the zone than most others, because he was actually nice enough to help me out when my zipper of the wetsuit got snagged on my suit. It was my plan all along really to throw off the
other
athlete's concentration to not properly zip my wetsuit. Fortunately for me XTERRAists are weaker of the mind and more willing to help their fellow man than are the roadie types, so my plan worked.
Mom's had 4 years to practice getting this very shot at this very venue with an iPhone. She's gotten pretty good.
I was onto the bike with absolutely zero situational awareness regarding the race, who was out on the trail, how far, and really anything else. You could say that in "a race," it behooves any athlete trying to compete, especially for an overall placing, to know where he or she stands within the race at all times and to try to figure out what gaps are, if they're closing, and anything else. However, this was a race against myself, and only myself. Nevermind that I had paid some $60, was 6 1/2 hours away from home, had numbers written on my body and bike frame, but this was a race against me. Everybody knows that you go out to race against yourself, everybody just does it together and then sings afterward, or something like that.
It shouldn't be about competing at all
. As a matter of fact, I briefly tried some cooperation with another athlete to trade out pulls, but he decided of his own accord that he no longer wished to continue the journey with me, but rather that he would strike out and forge his own path through the wind. That is, of course, until my water bottle decided it also wanted to forge its own path, causing me to in turn forge yet another path briefly, all before using string theory to reconnect all of the aforementioned paths, right out there in the wildnerness. I crested one of the absolutely monstrous
hors categorie
climbs of the Forked River Mountains midway through the first lap before being caught by a couple of other riders, who were happy to go off and forge their own path as well through the wind. A few of us briefly noticed some downed tape on the ground indicating that most likely, some athletes not only chosen to forge their own path through the wind, but they decided, much as some of those in the swim, that they were not required to do the entire course. That is their wish I suppose, and it is of minimal consequence or suspicion whatsoever for athletes whose split times are nowhere near each other in ability.
A good, noble gentleman from Long Island whom I knew from prior races, Anthony Snoble, caught up to me, or rather, our paths crossed in time, and we continued to ride together much of the rest of the way, occasionally being thoroughly confused by athletes who must have appeared through some sort of wormhole out on the course as indicated by the broken-down caution tape.
Shameless wheel-sucking going through to start the second lap
As I got off the bike and ready to go onto the run with even less awareness of the race situation than I had at the beginning of the bike, I went. My primary goal was not to trip and roll an ankle like is very easy to do. Again the difference in paths of athletes on the bike was evident, as I passed quite a few athletes on the run whom I would not have normally expected to see. However, that could be their prerogative, and we shan't fault them for such a deed. I held off that blessful stomach bug for the duration of the run, although it kept trying to remind me that I hadn't eaten. I told my stomach that it was not granted such permissions and that it would behave for the next 20odd minutes. I survived the run, and Meredith was kind enough to remark to me afterward that I didn't look like I was dying when I came by, which I shall take as a compliment. After all, I normally do, and at that point with an undetermined cause of sickness, it was plausible that I
was
actually dying at that moment, particularly if I were to use WebMD and tell it about the fruity smell on my breath (fortunately it was easily explainable by a combination of the Pepto Bismol, bananas, and Gatorade). So I finished, then quickly decided it was time for some good New Jersey diner food before schlepping back to Va Beach. I didn't really want to sit around and reflect on my race because suddenly I felt absolutely terrible, as the mystery bug had finally caught up to me.
Since reflecting on my race, I can only imagine how incredible my race would have been had I been even more sick. After all, if I ran that well while only a little sick, just think of the possibilities!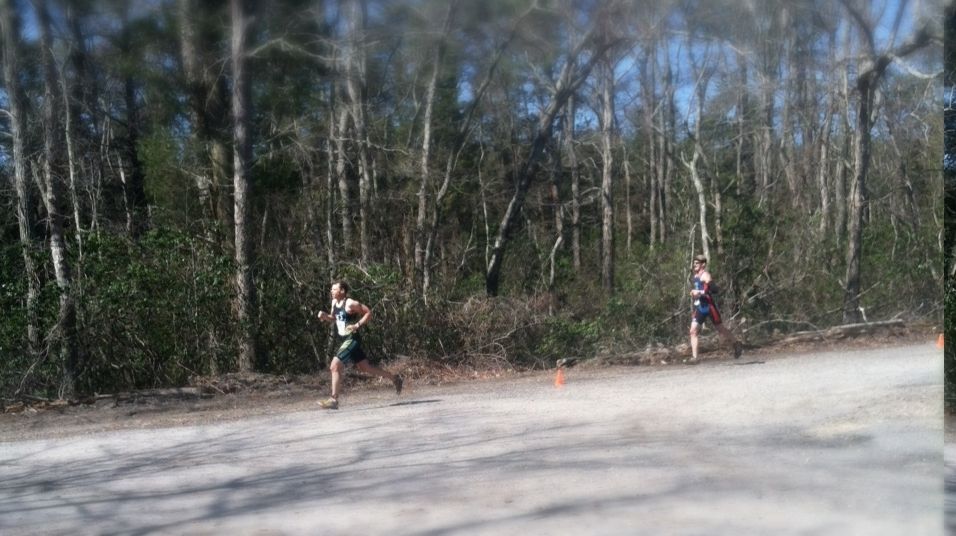 Behind somebody, but for once because I'm catching him rather than just got passed!
At this point I was thoroughly singing Tom Petty as alluded to in a previous post, hallucination-type music video and all.
In all seriousness, I do owe a debt of gratitude to whomever the other athlete was that jogged up T1 run with me and helped unzip my suit. That was high-class, and part of what I do like about XTERRA is how mellow and nice everybody really is. Unfortunately, I didn't see that athlete the rest of the race after T1, so I never got a chance to properly thank him and I can't quite figure it out based on swim splits alone. For anybody else besides that athlete, please, don't let this be you upon reading this post: