Went back to NJ, played golf, was reminded that I'm the one with the weird athlete idiosyncrasies in the family, raced. Crushed swim, hemorrhaged time on the bike like never before, ran reasonably well. Ended up 2nd.
I have ridden my time trial bike four times since September 1. Once was Hy-Vee, once was Sandman, once was the day before this race, and the fourth time was the race itself. I've still only ridden my road bike a few more times than that, and my cyclocross bike a few times last week. Basically what I'm getting at is: I haven't been riding much at all. Hy-Vee was my last big push of the season so from there, I took some downtime, and since Sandman, I have been primarily running. I can still swim quite a bit too, because I've usually found that large swim volume has negligible effect on the quality of my runs. Biking, however, does, so that's kind of taken a back seat right now. I was feeling pretty good considering all of that though, with a heck of a couple of runs in the Colonial 200 Relay, where I was asked last minute to participate, and placing second in the three-race Turkey Run Omnium for the VA Cyclocross series last weekend (I'll backdate and write something combined about the two of those).
I'd originally planned to drive up to mom and dad's on Saturday morning, but the blessing in disguise of my Friday night plans falling through meant I was able to get going earlier, pretty much right after work. I toiled through the usual of the Eastern Shore, bored to tears, although the drive was slightly improved over my drive to Ohio a few months ago because I finally invested in some 2003 technology of an FM transmitter, so I could listen to my iPhone while driving. That drive is exciting once or twice, during the day, with other people. When you make it semi-regularly for work, and then you're doing it by yourself, at night, it's just....long. I made it in late, not long before midnight.
The following day was fairly lazy, with just a run, a little ride, realizing my bike had several loose bolts and I could have died, then playing chip and putt with Pat and Dad. Throughout the course of the day, though, I think my family started to remember my weird little habits as an athlete, whether that's putting on my compression, or "recovering" by just sitting on the couch, spending 20 minutes tweaking a bolt's torque on my bike, and the like. I mean, Pat played baseball in college, so athletic peculiarities aren't foreign, but the triathlete ones I suppose are a bit more.
The next day, I snoozed my way and slept through the alarm clock because I decided an extra 15 minutes of sleep was worth it, and it was. I still got to the race site in Point Pleasant in plenty of time, so frankly, I don't know what I would have done if I'd gotten there any earlier. I rode a lap of the 4-lap bike course, then ran most of the run course, which was the same lap, doing my weird dynamic warm-up thing. I got my wetsuit on and splashed around a little, though not as much as I'd like, because the time from 45 minutes until race start to 15 minutes to race start is always the quickest half hour of my life, only paralleled by the half hour after finishing.
Evidently the race director, whom I've known from racing this same series for a few years, talked me up a bit so there was joking that I had an X on my swim cap while we were all treading water. After the gun, we were off, and I was quickly into the lead, and by the first buoy I had clean water even behind me, with nobody even close to my feet. I figured I would just put my head down and continue to hammer the swim because I was so uncertain about my bike fitness, so I did just that, exiting the 1/4 mi/400m swim in 4:46, a solid 30 seconds up on everybody else. When I got up through the chute on the beach, I actually looked over my shoulder and thought "umm where is everybody?"
Rumor has it that Mark Spitz's last name was originally "chokesonwater" but his high school coach gave him the nickname when he used to spit a lot of water in between sets, so Mark changed it for reasons of confusion. I'm following suit.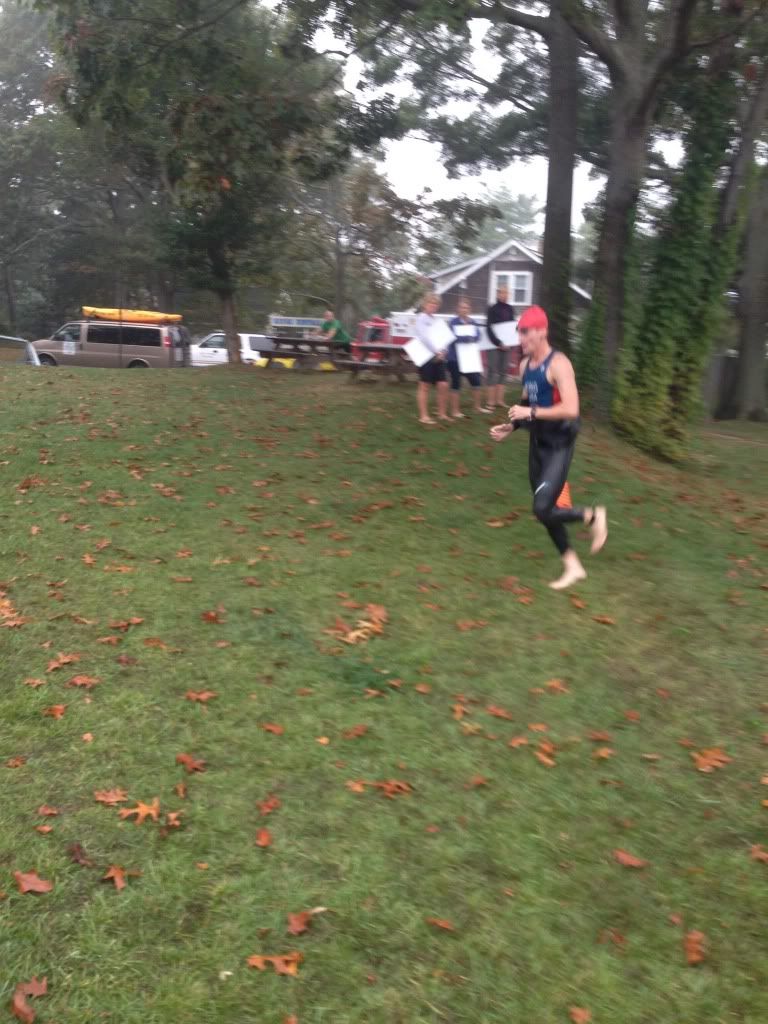 Nobody in sight
So I sprinted into T1 and took off onto the bike course. I spent probably a mile trying to figure out what to do with my sunglasses, because they were fogging up in the light rain and fog. Ultimately I shoved them down the front of my suit, but I felt a bit like an idiot when I'd put them on, take them off, try to hang the arm from the front of my suit, then from my aero bars...it was a mess. I cruised through the first 3/4 of the first lap until I started to get into the duathletes who were on their first run. Once I got around them, there was some rougher pavement, so I backed off given the light rain. Starting the second lap, I got caught and tried to hang with the other rider, which I did, ever so gradually losing a bit of time such that the second lap we were still pretty much together, the third lap he was just up the road, and the fourth lap he was barely in sight. I took some extra care to keep moving back right after passing all the athletes on the earlier laps, which may have hurt me time-wise, but I'm far too much of a rule-follower to do anything but the letter of the law most of the time. I was a bit nervous on a 4-lap sprint course, but it turned out to be ok; I never really felt it was too bad and people generally did a decent job keeping to the right, especially in the areas with two-way traffic where it was most important. They keep the field plenty small at this race, so that helps a lot. I got caught once more starting the last lap, but stayed with him, only a few seconds down heading into T2 off 2nd place, and unofficially about :30 to first. I figured that was within the realm of possibility to catch him, so I stormed out of T2 somewhere around a 5:00 pace, catching 2nd place within half a mile and I saw the leader up the road, but I couldn't hold that absurd pace any longer. I never really made much more ground back on him, though. I ended up having the fastest run split for the "3 mi" (that was about 2.7-2.8) of 16:20 by a couple of seconds (wow, I never thought I'd have the fastest run at a tri ever again), but I really felt like I was lacking another gear. It was one of those days where I was semi-comfortable, but every time I tried to speed up, the legs wouldn't say yes. It was nice, however, to finally be running people down. That used to be my forte when I was a weaker cyclist back when I was in high school, but it's become very rare that I ever improve position on the run anymore. I've been running a TON lately though, so that's probably why I was able to run so relaxed. However, there's been very little intensity in my running lately, so I'm thinking that's why that extra gear was missing, so to speak, even if my "comfortable" was approximately the same pace as my "extra gear" would have been only a couple months ago. All that said, I really did have a fun time running, which is a great sign of things to come.
The rest of the journey involved a required stop at an NJ diner with the family and an exercising of the part-time clause in my gluten-free rules, then a drive down the Parkway, a boat ride, and another drive down the rest of the Eastern Shore. Then work the next day. Woof.