Quick summary: Best executed race I've had in years. Lots of time in the Midwest. Hy-Vee is a great race and an even better supermarket. I try my hand at fluid dynamics. After a less than stellar early parts of the season, it's all kind of come together, I think, and I'm ready for next year. I had a childhood dream come true that I wasn't even aware was a childhood dream. I can eat whatever I want again, sort of.


Last year, I was able to expose Bailey to the near-entirety of the east coast, as we drove from Virginia Beach to Burlington, VT for Age Group Nationals then another time up to my parents' house in New Jersey for a weekend. It only seems fair that she return the favor and drag me all across the Midwest between Age Group Nationals and now this race. I suppose more importantly, she's a mere 6 hours from Des Moines, so within reasonable driving distance. I decided to fly in a few days early to Wisconsin and keep her company for the drive, doing about as much of the work on the drive as I do if we do a training ride together.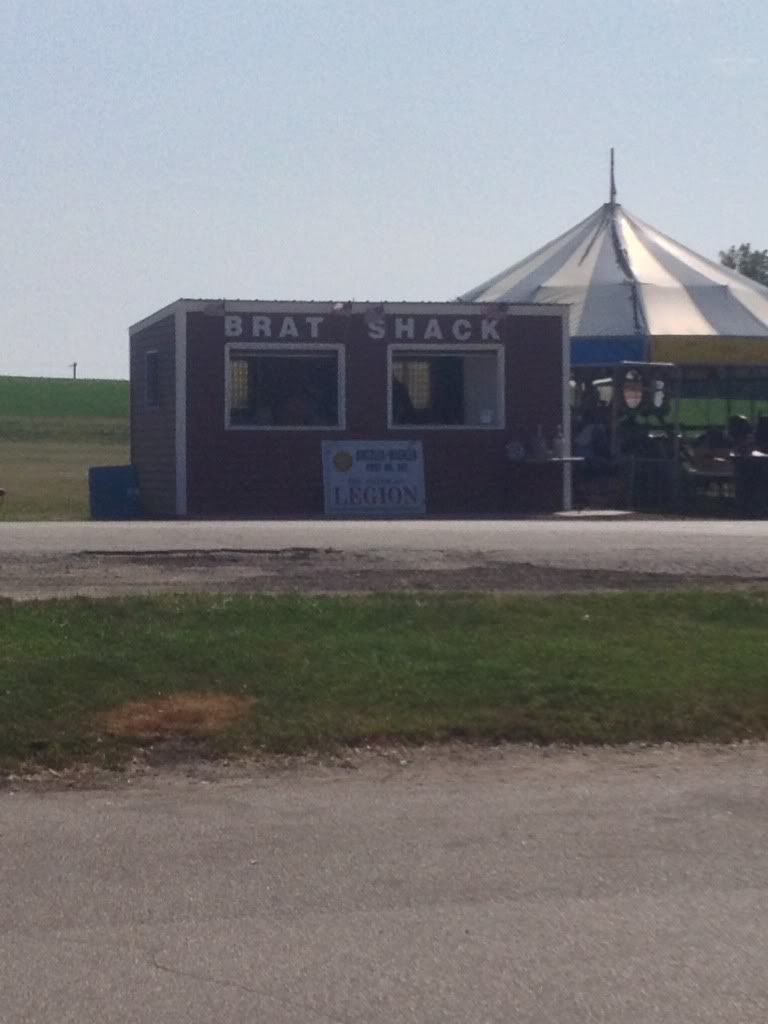 Wisconsin is great because this is a standard sight, really. I still don't eat sausage or any of its related brethren save the very, very rare hot dog (or corn dog, as you'll see down a bit in this post) following a food poisoning incident several years, but this is magnificent.
I was left alone by myself in Fond du Lac with no idea what I was doing, being responsible for leaving the house in good order before we left for the weekend. Apparently I passed the test for the most part, as Bailey was content with my house-leaving skills when we returned. I picked her up and we left straight from her work, driving through to Cedar Rapids, but not before a 45 minute stop eating dinner on a bench outside of a Walmart Supercenter somewhere in southwestern Wisconsin. I'll never think people at rest stops or Walmarts or anywhere else is weird again, now that I've been one of those people. It was quite a lovely dinner, eating out of a cooler in a parking lot. At least there was a pretty sunset and some storm clouds way off in the distance where we could see a neat lightning show.
Apparently southwest Wisconsonian Walmart shoppers need a reminder not to leave their children in the car.
The next day was the rest of the drive out to Des Moines, where we did our standard pre-race sort of ritual, a little run, a little bike, though probably sweating out 2 lbs per hour in water weight because apparently Des Moines is French for "The Monks," but apparently the monks must have gotten it right with their linen barely-there toga-like apparel, because while I know it was below 458* F because no paper was lighting on fire, I can't say for certain it was much cooler. However, with humidity a mere 45%, it was practically desert dry compared to my usual habitat. We met up with Steve, Bailey's CSU teammate, to exchange goodies, including borrowed swimskins for Bailey and me and giving Steven his bags full of free stuff from Age Group Nationals. We tested out the swimskins in the hotel pool, which was definitely funny and weird, but it worked.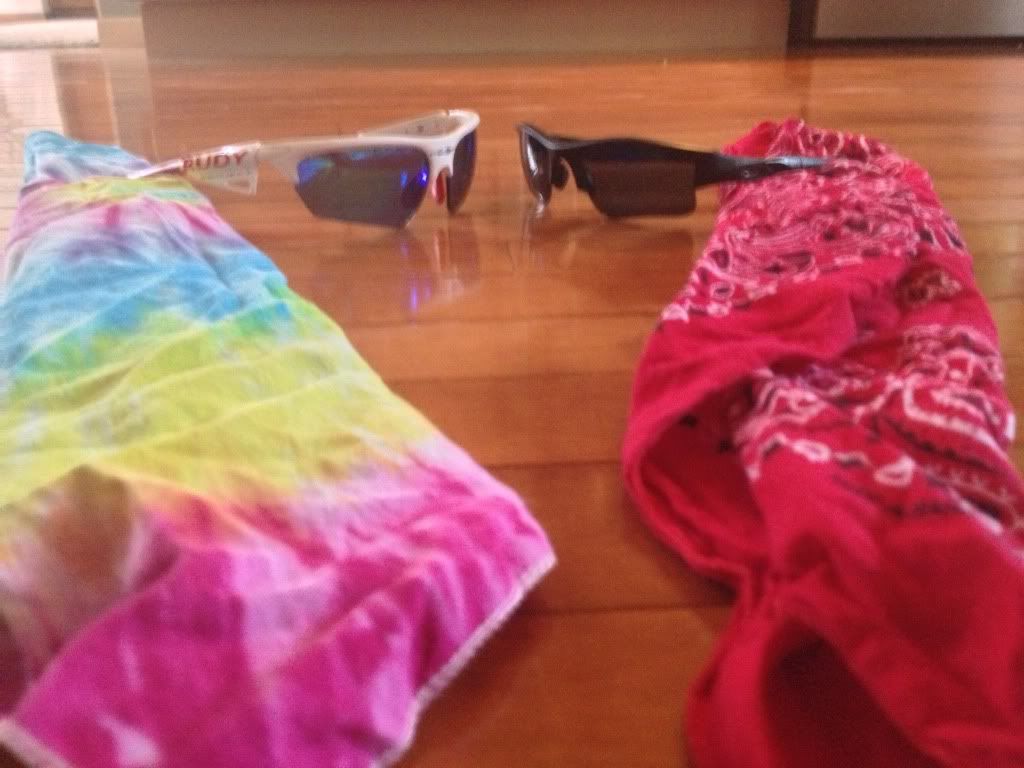 I had to make tough decisions when packing for the trip. Ultimately I decided on the loudest combination possible, the tie-dye and Rudy Projects on the left.
The pre-race dinner was at a little brewery with a few friends and friends of friends that was a bit disappointing and expensive, and the server looked a bit strange at us for all having our various degrees of no wheat, no flour, no dairy, no meat, and the universal no drinking beer at a brewery (which I admit is strange). The next morning, Bailey and I awoke to a bit of rain, but figured it would pass. When we arrived at the race,
it was brutally windy and pouring
and it looked like everybody was staying in their cars. We decided to walk over to transition anyway, where we dropped of some of our stuff then got confirmation that they had pushed back the start 45 minutes,
similar to Bailey's experience at Life Time Minneapolis a few weeks ago
, though fortunately the course remained the same this time.
We went back to the car to stay dry and warm for a little while, we let the rain pass and got over to set everything up. I fumbled around for a bit trying to find something to cover the hole for my disc wheel, but eventually let the trained initiative kick in like any good Coast Guard Academy alum. Problem solved. I tend to be somewhat chatty and lighthearted in transition in the morning. Sometimes it's well-received, sometimes it's not, with people taking things really seriously. Others seemed to appreciate the nature of the young wannabe pro triathlete crowd: using cardboard to put together my wheel.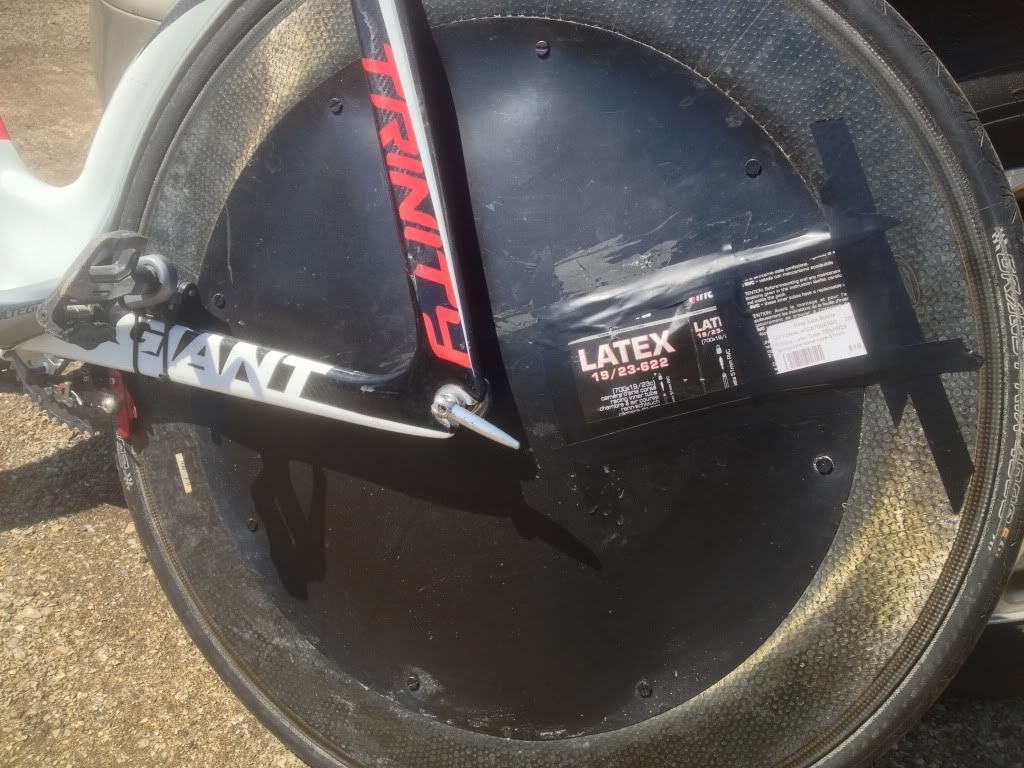 Quite possibly the most aerodynamic decision I've ever made was electrical taping a piece from the box for a tube I ended up not using or needing.
I got in a nice warmup and didn't want to get out of the water, because the front that brought the storm meant it was still a little chilly in the morning, especially compared to the bath water of the lake. There was an excellent display of 'murrica, including fireworks at 7:30 in the morning during the "rockets' red glare" part of the national anthem, which is
almost as patriotic as a Toby Keith music video
. After feeling
ready to go to war against Canada for their infringement on bacon
because of the fervor that the firework display drummed up inside of me, I got lined for the swim. There was a little ruler-measuring waiting for the swim start, guys talking around but nothing beyond what would be expected at a race of this caliber.
The start involved a run into the water, and I miscalculated the diving thing again. It dropped off a lot steeper than I realized. Normally you'd expect to run in, dolphin dive a couple times, then start swimming. This beach was a one-dive slope, which I realized when I dove then stood up in chest-high water, pretty much negating any momentum I had from the dive. Whoops. I latched onto the pack toward my right, which appeared to be going a lot faster than the swimmers on my left. By the first turn buoy, the split had happened, and the ex- and current college swimmers (I generalize, but that tends to be the case) were off the front and I was solidly in the fast-swimming-but-still-just-triathlete-level-fast pack. I was sitting on feet nicely, but realized about 400m into the swim that I was right near
JustinMetzler
. I couldn't remember how I swam relative to him in Sarasota, but I knew I swam quite a bit faster than him at Nationals, so I was worried I was having a terrible swim. This fear was further confirmed by my complete inability to count or have any perspective when swimming, because it always looks like there are at least 40 people in front of me even if there are only 2 or 3. Somewhere near the 1,000m mark, I decided it was time to reach to my Aquaman roots and start swimming 150 kts, the claimed speed. The lake was 85*F though, so there was no marine life for me to summon to help, because all of it had boiled off over the last few days of triple digit temperatures. For what it's worth, Aquaman swimming 150 kts in water is about 43 times better than Superman being "faster than a speeding bullet," which I'll assume to be the speed of sound.
Yes, that was my summer job when I was 16. The following summer I got upgraded to Batman. It's funny now, because the trident is part of the insignia of the marine safety field in the Coast Guard. If only I still had it...
Proof on a napkin that Aquaman has to generate a significantly larger force to move through the water at 150 kts than Superman does to fly through the air at the speed of sound. I know there are faster bullets and my assumptions are probably 100% wrong, but this is napkin math showing mathematical proof just how underrated Aquaman is. If Coursera ever has a fluid dynamics class, I'll take it. Until then, this is what you get.
Swimskins are actually more awkward to take off than a wetsuit even. I didn't know that was possible.
I pulled Justin along with me and stretched out our pack a bit more, leading them into T1 in a time of 20:17, a solid swim for a non-wetsuit swim for me, ultimately 9
th
out of the water (
video from Justin's blog
) in the elite amateur wave. A quick transition and I was out onto the bike course.
Not even a mile onto the course, I was scared for my life when I saw a rider go down on the very first corner, sliding across the ground and rolling over the median, if memory serves me correctly. More importantly, he fell on a right turn, which means the drivetrain side of his bike was probably damaged. The horror! It seemed with the rain, some of the corners were exceptionally slick. I had been looking forward to this course because it had a lot of turns and I fancy myself a decent bike handler, despite what my
cyclocross results may indicate
, but seeing that when I had just barely finished Velcro-ing my shoes definitely threw me off. I still had no idea where I was place-wise, but I just found myself slowly moving up, but losing Justin up the road. At the first turnaround I figured out that yet again, I have no ability to count people in the water, because I was somewhere in the top 10. Anyway, I rode through the rest of the course, which was actually pretty awesome. It was fairly flat and decent pavement for the most part, but enough little curvy sections to keep you on your toes, and the occasional change in road surface, including some railroad tracks. With how I was catching up to people and how little I was getting caught, I was a little afraid I was overbiking, but as best I could gauge from HR and speed on my Garmin, I was within what I am capable of. Fortunately there were some rowdy spectators at the top of one little rise, including the
Clean Bottle man
, though he did not run alongside me. There was also a man in a Gumby suit who I believe was trying to hand out beer. (for any coasties, sailors, or other mariners who read this, this was not the
Gumby suit you're thinking of
. That would be terribly hot and just weird. This was a
green Gumby
, so it was funny) It actually reminded me a lot of the section on the XTERRA Richmond course with
Foghorn Leghorn and Mickey Mouse who have the beer funnel
. Fun spectators aside, I was just moving my way along, gradually realizing that I must have actually had a fantastic swim, so I couldn't screw it up now and waste all that swim prowess. Around the 15 mile mark, Steve finally caught me on a little riser, but then there was a little 3-bike-length swap outs into a headwind with him and a few others before he turned on the after burners and left me in the dust at the next tailwind. Meanwhile, the opposite direction I could see 10
th
through 20
th
place playing Tour de France only without the motorcycles or station wagons nearby. While I wholeheartedly appreciate seeing a ton of officials when the pro field went by in the other direction because they're racing for their livelihood it bugged me a bit that we didn't have any. At the race briefing with the lead official for all of USAT, he told us that because the elite amateurs were racing for some substantial prizes, rule enforcement would be rigorous and plentiful, yet as 9th out of the water and 8th off the bike, I never saw a moto come along side me, only ever going the opposite direction, which is impossible to write a penalty that way. As a matter of fact, I never saw any motos in front of me through the elite amateur field at any of the U-turns either, which leads me to believe the top 6-8 riders never had any officials' eyes on them except going the opposite direction. We were all fairly spaced apart and simply looking at the splits of the top 10 or so shows it was nearly impossible for anything to be going on, but there's no way the officials would have known that without actually being at that part of the race. I happened to see Bailey twice on the course, once right as she was starting and I had just puked in my mouth a bit around the 5 mile mark (a strange occurrence that didn't bother me at all, and was
before
I saw Bailey, so I assure you there is no connection), and then again on the last out-and-back section. It's always a treat to see her on an out-and-back though
J
Within the last mile of the bike I was solidly into 8
th
place, when I started to get mentally ready for the run. Of course, at that point I thought about how great it would be if I had a killer run split, because then I'd be able to at least contend for top 3 or 5 if not the overall win, which is definitely fuel to train harder for next year when that's happening in a race that actually give out significant value prizes to its amateur field. Anyway, I got off the bike in 1:00:40, which is a slower time for me, but the wind was brutal, and I think the bike splits show it. We may not have hills in Virginia Beach, but I believe our ridiculous winds have actually turned me into a good headwind rider, because that's when I found I was catching up to the most people.
Angry biking early on
Happy biking, I believe still earlyish on in the course.
The obligatory side profile bike shot. If you look close, you can still see my super-aero wheel cover patch.
Moto-ing the wet, greater-than-90-degree corner that evidently claimed quite a few. Apparently I stick my tongue out just like I am a 9 year old hitting a wiffle ball when I take a technical corner.
Off onto the run course I went with a couple of guys just barely in sight, and I thought at one point I might have been gaining on the runner in front of me just ever so slightly. I didn't feel spectacular, but I wasn't in death march survival mode just yet either. I went out as controlled as I could, but still obviously got way too antsy when I hit the first mile in 5:50. Whoops. Even though there was a sizeable gap to the next athlete behind me the last time I got a glance backward on the bike, I knew there were some super speedy runners in the field who were most likely still behind me but closing in. Fortunately it took over a mile to get passed the first time, but that's when the passes started. I came up with some complete nonsensical logic that if I could stay in the top 10 to the turnaround point at about mile 2.5, I'd be able to hold off and stay in the top 20, which was one of my goals before the race. I did make it to the turnaround in I think 8
th
or 9
th
if I remember right, but that's when it started to really hurt. At that point we turned back around into the same nasty wind that was on the bike, and I slowed down dramatically, and the runners were coming! At one point I saw Bailey again, but I was barely able to think straight about whether I was supposed to alternate which foot goes in front of the other or not, so I was in no shape to count how many women had been in front of her. She's also tough to read from body language how she's feeling, because she looks in as much pain at mile 0.2 as she does at mile 6. I kept on going though, concentrating on just consciously running hard, not allowing my body to decide it was naptime and avoid the inevitable mid-10k slide in pace that I so frequently experience. I hit the 4 mile mark and did some rough math in my head to figure out that a 40 minute 10k was doable, though damn difficult at that point, but I knew I had to run hard, because those runners were still coming hard and fast and they weren't going to take pity on the fact that I aspire to start a race one day with a 1.5km swim, 40km bike, 1km run and call it the Ianman. All weekend I'd seen the little bridge across a corner of the lake and thought it was really neat. When it was the 5 mile mark of a 10k into a headwind, though, it was not neat. It was brutal. Shortly after the little bridge, the course runs right near the finish line with about a mile to go. I've determined that any course that has you run past the finish line into a headwind is pure evil. I got passed once more on the last out and back stretch before the finish line. I made the turn onto the last road and peeked over my shoulder to see one more runner bearing down on me, but I couldn't tell how quickly. I didn't quite have the same speed launch that I did in Milwaukee, but I kept holding him off, fearing that he'd have some killer
Simon Whitfield
or
Bevan Docherty
style sprint and crush my dreams from 300m out. The finish chute was a nice little S-bend, but I ran the straightest possible line onto that blue carpet, almost tripping over the flower pots I cut it so close to the fencing. For some reason my last thoughts I remember are similar to Milwaukee: "hm, this carpet is really squishy because of the rain this morning even though the sun has been out for a while." Then somehow I was on the ground across the finish line, and of course I subconsciously stopped the Garmin.
See, the carpet was squishy!
The final run split was a 40:03, so just shy of a 40, but that still makes it my second best run of the season and on a really windy day. More importantly though, I would argue this was overall the best-executed race I've had this season. I think I would have to reach back to the fall of 2011 with some of the NECTC races I did to find one at least on this level. I ended up in 18
th
place in the elite amateur division and 24
th
overall (a few guys who raced in regular age groups beat me, but they very well could have raced elite had they wanted to), with a time of 2:03:36 after you factor in my spectacular transition times. While each individual split isn't inherently "oh my god that's awesome" even by my own standards, it's rare that I've been able to put together a successful race like that. Taken in context of the day, those split times don't tell the whole story about how the race turned out with the conditions as they were. If you asked me before the race where I thought a 2:03 would have put you in the elite amateur field at Hy-Vee, I would have guessed 30
th
, not 18
th
.
I eventually stumbled over and sat down and played in the ice bath with all the other dudes, which isn't weird at all when you've peeled your suit down so it barely covers anything more than a pair of booty shorts. I waited around for Bailey to finish, and while she still bested my place by finishing 10th, she was a bit disappointed. Nevertheless, she's had a killer season and one disappointing 10th place at arguably the most competitive amateur race in the country is no reason to look down on 2013 as a whole for her. Afterwards, we took in all the race expo had to offer. Grocery stores are incredible for sponsoring races, because it means AWESOME food.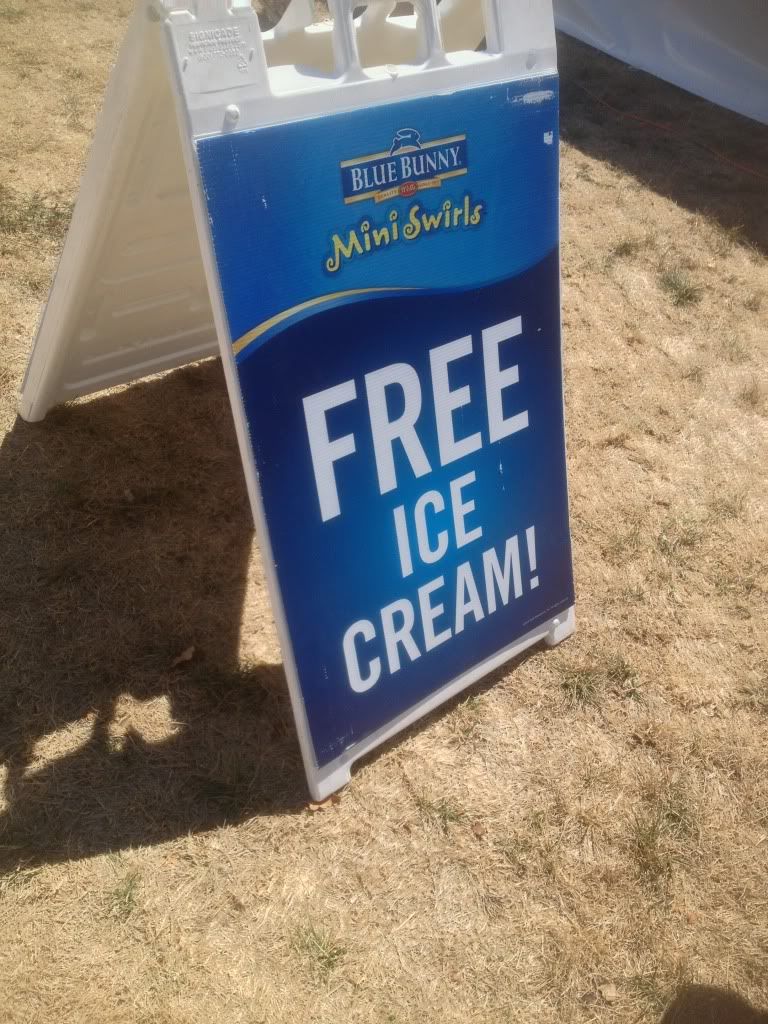 Best sign ever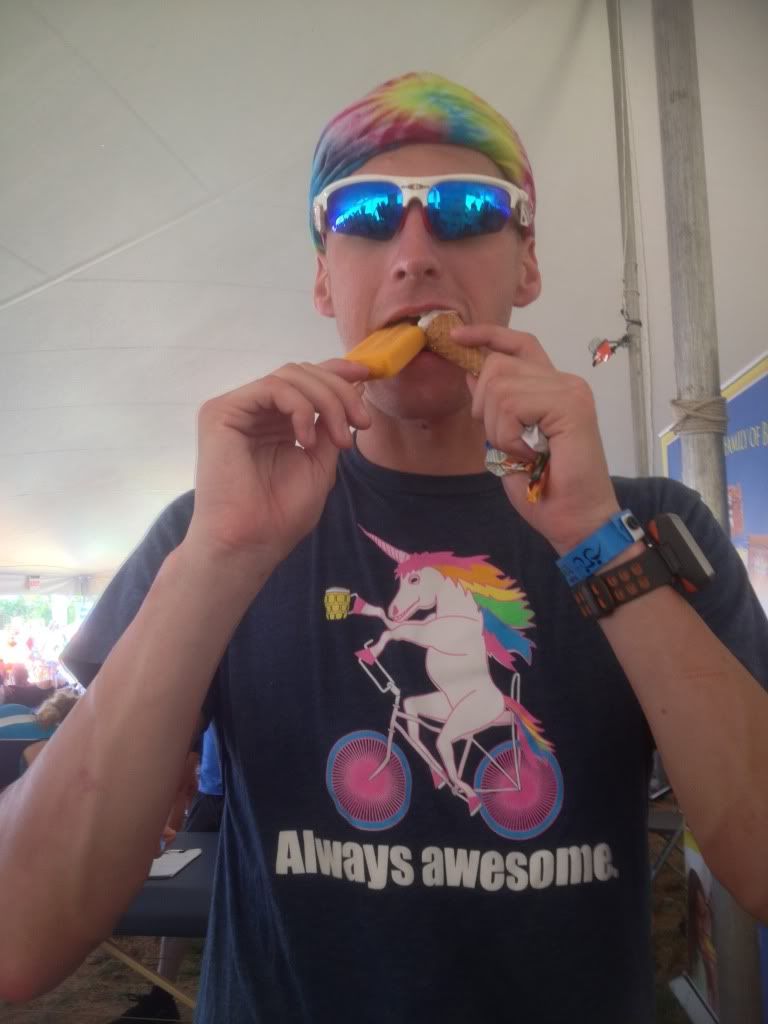 If it's free, you may as well take several at a time.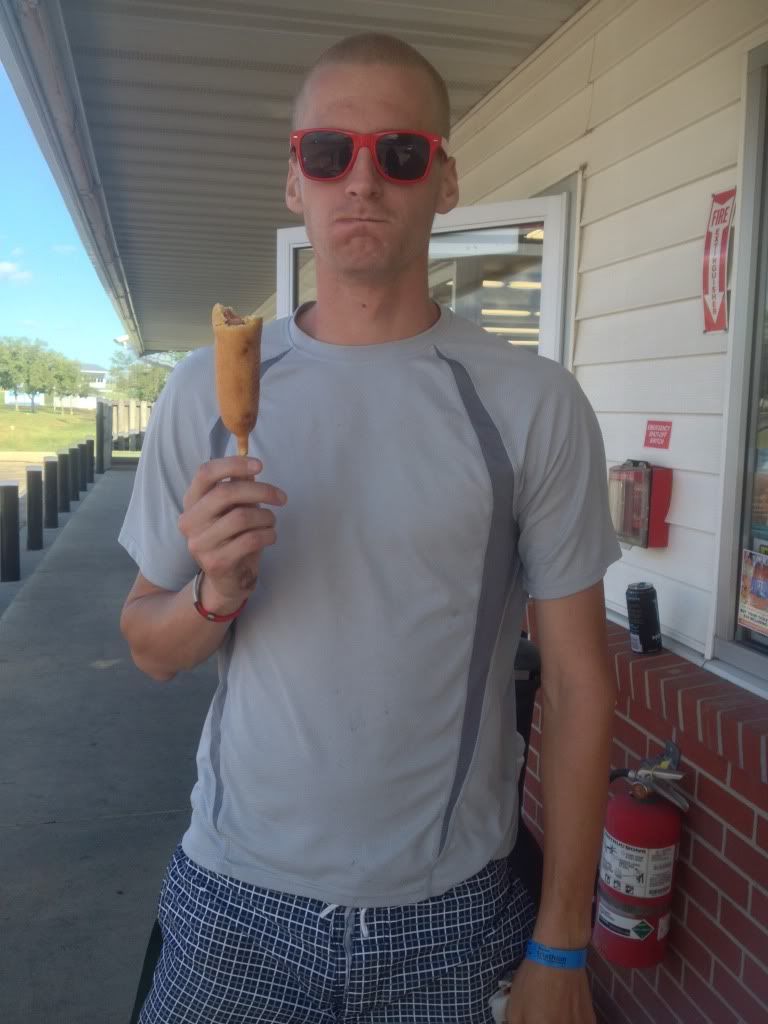 I asked for the gluten-free corn dog, but had to settle for this one. Weird. It's because I wasn't at the expo anymore
Before leaving Des Moines, we got to experience the ceremonial "I don't care about my diet anymore" meal, and we also decided to actually visit a Hy-Vee store that was right by our hotel. It was AWESOME, like on par with
Wegman's
and certainly exceeding Trader Joe's. I was happy I could go eat from the Chinese food bar now that my self-imposed dietary restrictions were non-existent. I have no idea why, but it seemed like a great idea at the time and just required 13 cups of coffee before I could actually start the drive home.
The drive back from Des Moines to Wisconsin was a bit of the same, just lots of corn fields and highways. We did, however, stop off in Dyersville, IA. If you know much about me or read my background information page on this website, you'll know I was a baseball player far before I was ever any sort of endurance athlete. I don't exactly know how I knew, but I knew that the Field of Dreams original site was still up and running and open to the public. I had been planning to see it ever since I figured out that I'd be driving from Wisconsin to Des Moines with Bailey, as I don't foresee any other time I will be driving through northeastern Iowa again. As much as free ice cream and good post race food are magical, this overshadowed that. It's really neat, and it's pretty much preserved as-is, to the point where it's even used kind of like in the movie. There aren't any organized games, it's just people playing around, kind of a never ending thing where you can just go up to bat and strangers will pitch to you, then other strangers will field it out in the field and throw it back in. I wasn't exactly trying to, but nobody was off in right field when Bailey and I were just behind first base, so when a ball came out that way, I got to field a groundball out on the original Field of Dreams. For the tri-geeks still reading, fielding a ground ball on the Field of Dreams is a lot cooler than sprinting down the same blue carpet used in previous ITU races, hands down, and I did both in the same day. If you're ever in that part of the world, even just passing through. Maybe I'm biased because I played baseball, but as magnificent as you think the movie is, actually seeing it in person is that much better.
Go the distance.
It's built. We came.
Once we got back to Fond du Lac, I still had some more time to digest how the race went, and I've realized I'm glad I finally had that well put together of a race. Sure, it's remarkably similar split times to Age Group Nationals, but slower, but I'm certain that this was a better race. Getting off the bike in 8
th
place also gives me the confidence I need to work like crazy on my run in the offseason, because it appears at least that my swim and bike are pretty solid at this point. On that note, it probably sounds like I'm ending my season now, and that's only partially true. I still do have a couple of local races, definitely including Sandman, aka the Boardwalk World Championships, where I got 2
nd
last year and just ran out of room to run down the leader, followed by maybe one or two others, possibly a race in New Jersey to see the familia, and the like.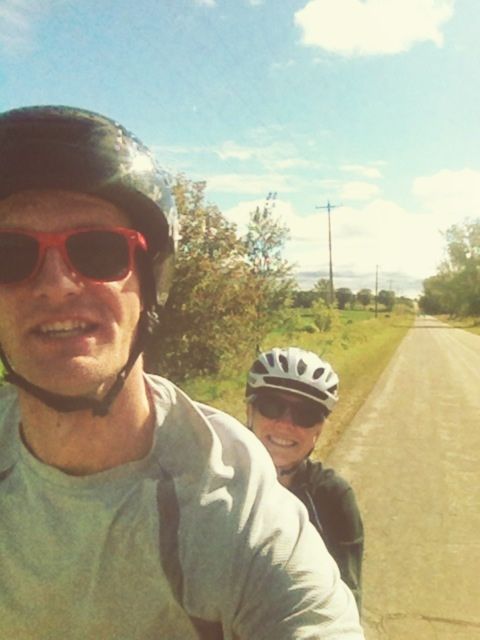 Started off the next training block with a little tempo tandem. I wanted to get proper aero form though, so I wore my TT helmet. #aeroiseverything