Note: The race was in Ohio, but I still call this post Wild and Wonderful because I spent as much of the weekend in West Virginia, and as you'll see, I have a special place for it in my heart...and because it was a bit of an odd weekend.
Quick summary: I dislike driving, near-crisis averted with my bike, thought I led the swim but didn't, held back on the bike more than usual, had a decent run and an overall result that gives me a good warm and fuzzy. Bailey outran me. Bailey wore two different shoes. Bailey won. Zoos are awesome. I actually think I may hate driving.
Columbus, Ohio seems like a pretty random place for me to go to a race, but it happened to be the only other 5150/HyVee qualifier that was reasonably close. It was also a nice halfway point for me and Bailey; my drive was somewhere between 9 and 10 hours, hers was just under 8. While I did race another 5150 at Columbia a few months ago, that was a terrible experience with my messed up back. Also, Bailey had yet to race a 5150, so she needed to race and place top 15 (as did I) to qualify for HyVee.
The drive was pretty horrendous, as I pretty much sat in traffic for the first two hours. Sometimes I think I'm living in the world of the Truman Show, where I'm fine in my day-to-day life, but the second I try to leave Hampton Roads, the traffic is HORRIBLE and keeps me from going anywhere. Then, I realized that my Bob Marley station on Pandora was rather repetitive (but I swear all reggae is NOT the same!). Also, my iPhone cord on the car has corroded to the point of not functioning, so I had to use a Bluetooth speaker. It took some getting used to the fact that the knob on the car did not adjust the volume of the music. Then I realized that my cruise control was not functioning...but all of this was made better once I decided to go with my playlist consisting of a mix of Cream, the Grateful Dead, the Allman Brothers, and others (I am my father's son. I accept this now at age 23) Then, I hit Charlottesville and the foot of the Appalachains and the drive got fun/not cruise control friendly anyway for the next several hours. I was driving through West Virginia and realized that it's as or more beautiful as, say, Colorado, but just has a reputation of hillbillies and poverty, rather than the gorgeousness of Colorado. West Virginia has always been an enigma to me for that reason, but I'd forgotten just how incredible it is.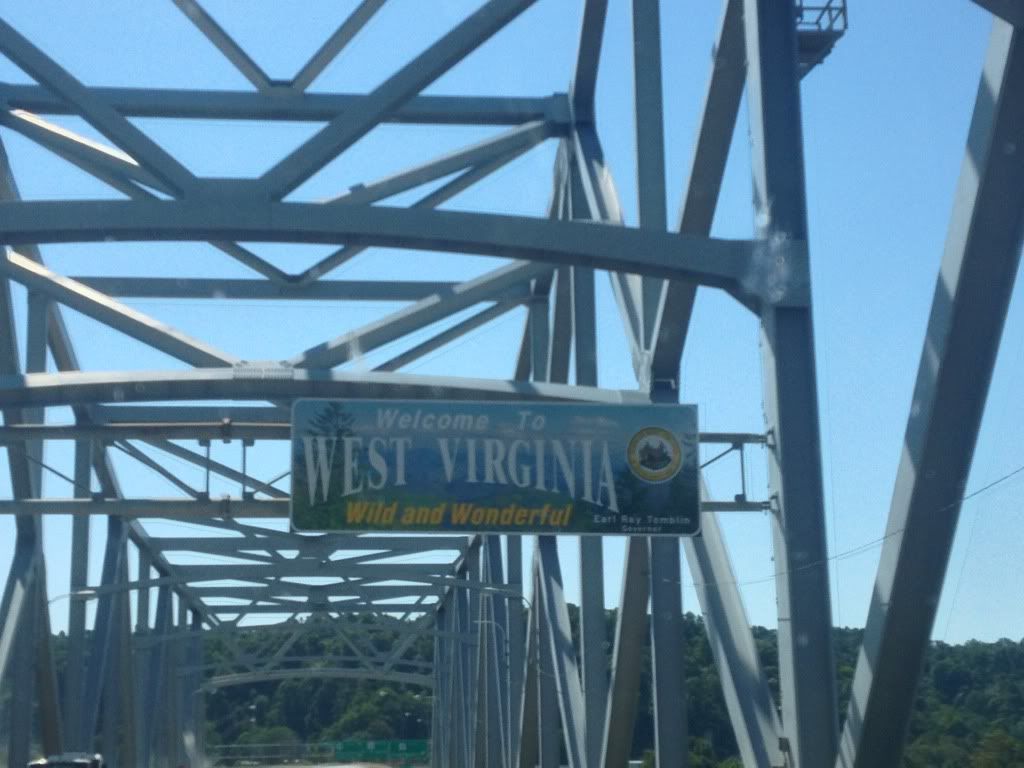 Ok, so I kind of cheated and took the picture on my way back into WV from Ohio, but I was in stop-and-go construction traffic over that bridge, whereas the VA/WV border is on an interstate with almost nobody on it, so I decided pictures at 75 mph were a bad idea in the mountains.
My parents lived in Charleston when they were in their 20s before moving back to NJ, so we visited a few times when I was really young. The way they talk about it though, it's always been interesting to me, and somewhere I'd like to spend more time. However, it appears it's not as isolated and insular as it was when they lived there:
West Virginia forgetting that the main reason those few counties broke off and formed its own state was not because of views on slavery, but because Virginia drivers are awful and are content to sit in traffic even when the population does not dictate any significant density problems. I was a bit frustrated to hit traffic 6 hours into my drive.
I took a mini detour off the highway in Charleston to see mom and dad's old place. I'm pretty sure I would either become an incredible cyclist/runner, or I would just be fat and lazy if I lived there. There was a switchback climb just to get to their apartment complex!
Just your standard mid20 year old style of apartment/townhome...whether it's in Virginia Beach, Charleston, or Fort Collins, they all seem the same...unless you are my brother and live in Manhattan and somehow have a backyard.
I stopped for the night just past Charleston, then kept going the next day. I was SO proud of myself for not stopping to buy food, but rather that I actually packed *almost* enough food to make the whole drive (I cheated to buy Gatorade/Powerade/dinner)
Gourmet meals like this were served at every rest stop along I-64 and U.S. 35. I swear. And that peanut butter is gone. I'm sad. It was ridiculously large and barely lasted a week and a half.
The second day of driving was a lot less exciting because I was out of the mountains and into the Midwest. I'm not entirely opposed to the Midwest, but when you lack cruise control, it's awful. I made it into the baller suite at the Double Tree in the early afternoon and immediately threw things everywhere around the hotel room that was larger than my apartment. Bailey made it there a couple hours later after she forgot that Ohio is in the time zone that all primetime network television programming is based on.
We rode our TT bikes like rockstars in downtown Columbus to the expo (aero helmet and all for me; Bailey thought ahead and brought her normal human helmet) and I started noticing a little funky behavior of my rear wheel, but I thought I'd be able to adjust it with the dropouts and set screws when we got back. When we got to the expo, we had a nice chat with a very eager and enthusiastic man who I'm pretty sure didn't breathe for a solid 4 minutes; he just talked. I'm not sure about what, but I heard Savageman, P2, Kona, wheel drafting, and something about his son not being able to run (Dad?). Bailey and I then got confused for pros (ego boost?) when we were in the expo, but we politely said no, we got our packets and walked around looking for free stuff, but just found weird stuff instead at the health and fitness expo.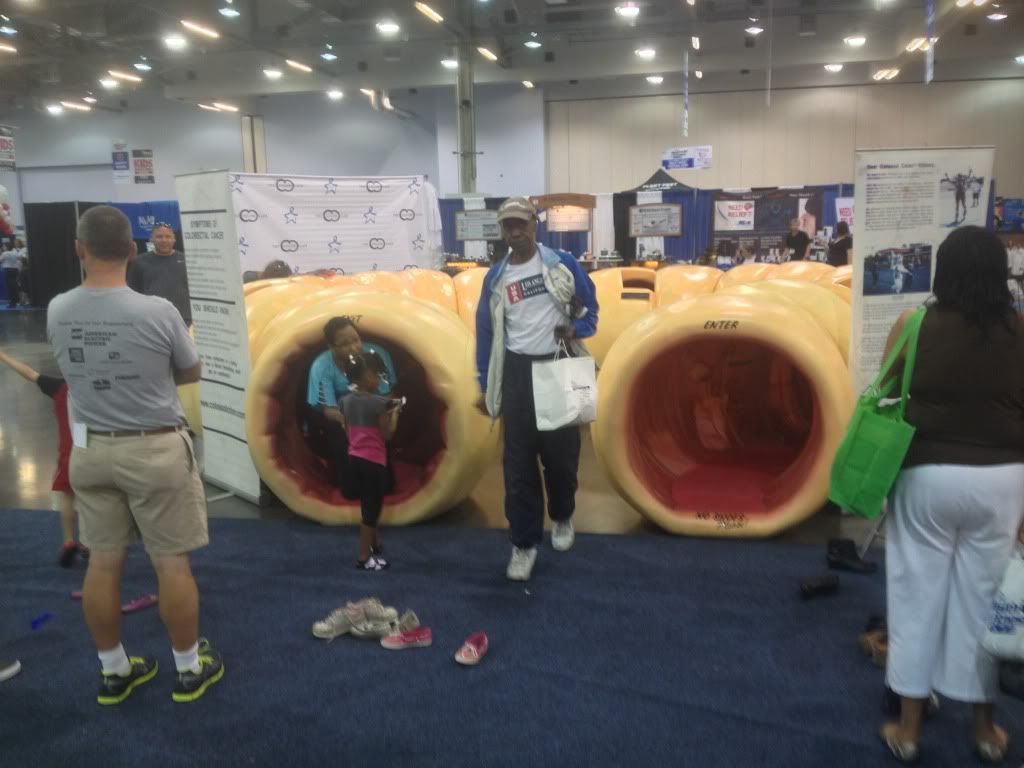 This was I believe supposed to raise colon cancer awareness and encourage screenings. Instead, it grossed me out that children can crawl through colons. The only thing that should ever enter into a colon is a camera on your 50th birthday. That's it.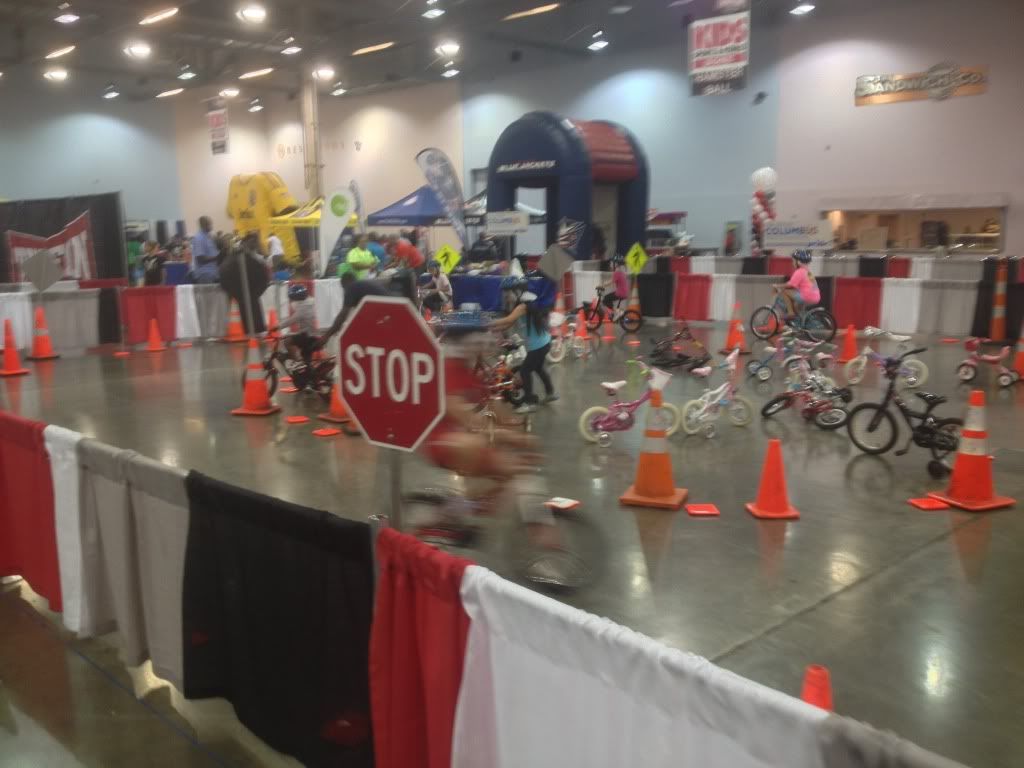 This was supposed to be a children's bike safety learning center. It turned into a crit/velodrome. If we'd had more time, I would have stayed and waited to watch for crashes. Some of those little kids were just absolutely hammering, but others were happily dawdling along...kind of like a triathlon.
When we got back from the expo to the hotel is when I nearly had a crisis. I thought I could just adjust the set screws, but that didn't seem to fix my rear wheel issue; it still felt sort of "stuck" even when it wasn't rubbing on anything. Ultimately, I just decided to call it quits and take it to a shop, Baer Wheels to be exact. After being desperate and probably annoying and impatient, they finally diagnosed it as a bad freehub and/or bearing. The owner was nice enough to offer to stay late and fix it, as I think he sensed my dread of being in from out of town with a bad wheel and a race the next day. Crisis averted, Bailey and I next went to eat pre-prepared sushi in the grocery store parking lot before driving up to rack our bikes. The rest of the pre-race day was uneventful, I'm pretty sure, if I am remembering correctly.
Race morning came absurdly early, waking up around 4 to be exact, to ensure we had enough time for breakfast and to walk over to T2/finish area to set up in the dark and catch a shuttle over to T1/start. As we were eating breakfast with my trusty Bluetooth speaker playing a Jock Jams playlist, Bailey broke into dance.
Proof she was wearing the same two shoes at one point. That will come in handy later.
We walked over and set up T2 in the dark, though I thought ahead and brought a headlamp. Bailey declined my offer to borrow it. We got on the bus for a pretty long ride, actually, and I half fell asleep again. It was a little rushed getting everything together and making sure I was warmed up, but I was definitely prepared. I had already gotten in the water and found Bailey again on the side of the water and zipped up her suit for her when she said she'd somehow been wearing two different shoes. Evidently she took off her shoes when setting up T2 and put one of each back down. She seemed pretty calm about it, and ultimately there was nothing she could do; she'd just have to deal with the awkwardness of two different shoes, but at the same time, it was good she realized it then so at least she was expecting it.
Anyway, the gun went off and I stumbled into the water and tripped, basically negating my awesome dolphin-diving skillz. I was into the first 5ish at the turn buoy, then I thought I settled into the lead. I could see a couple people way off the front, but I thought they were female pros. It turns out they weren't, but rather three guys from my wave who just took off. I still need to work on that sprint speed to start out, it seems like. I came out of the water in 16:05, which obviously is not accurate. I'm not even going to pretend to think that was an accurate course, because I would have been a mere 8 seconds off qualifying for the 2012 Olympic Trials, and most of the pros would have set a world record if this were a pool swim. Nevertheless, I thought it was a good swim, and I headed out onto the bike unsure if I was in the lead. As time wore on though and I didn't see ANYBODY, not even the female pros (because they started a whole lap of the swim in front of us, so about 8-10 minutes), so I gradually started to confirm my thought that I was in the lead of the amateur race. Still, I pushed on, but eventually got caught by one, then two more riders. I kept within sight of all of them for the rest of the ride. The ride ended up being stupid fast, being a net downhill and probably about 1.5-2km short, so I don't know if I actually am capable of biking a 58:00. Maybe in a standalone TT, but I was actually holding back a lot more than usual to see how that strategy would work, and I think it paid off because I still came off the bike in a high position and was able to run better than usual. As I started the run, I definitely got a little excited, but kept under control as best I could, as tempting as it was to try to gun for a top finish, but I was afraid what would happen. I definitely felt stronger than I have in recent races though, and I didn't resign myself and somewhat give up like I now realize I've done in other races. I started to hit the struggle bus around mile 2.5, but picked it back up shortly after when I saw Bailey was well in control of the women's race when she was going the other way on the out-and-back. I gave her a nice little wave and smile and started running not-slow again for the final 2.5 miles. At that point though, I was starting to get passed more frequently by some of the super runners who obviously are not as passionate about being the T2 world champion as I am. It was SO NICE not to think I was dying for 6.2 miles, though. I'm not saying I was running super quick or anything, but I really do think I finally am starting to get my run back, just like Stella.
I came across the line, run split ended up being 39:52. While I'm far from content with that time, the more I've thought about it, I'm almost positive that's the first time I've run a 10km under 40 minutes since The Nation's Triathlon in 2011...and that was only a bike-run. I think I've been having a bit too unrealistic expectations for myself, so I'm going to take this opportunity and evidence of improvement and continue to work and expand on it. Oh, Bailey ran a 39:40 on her way to winning the overall amateur female race, though, mismatched shoes and all. I'm not upset, actually thrilled for her to be outrunning me. She's been having a killer season so far.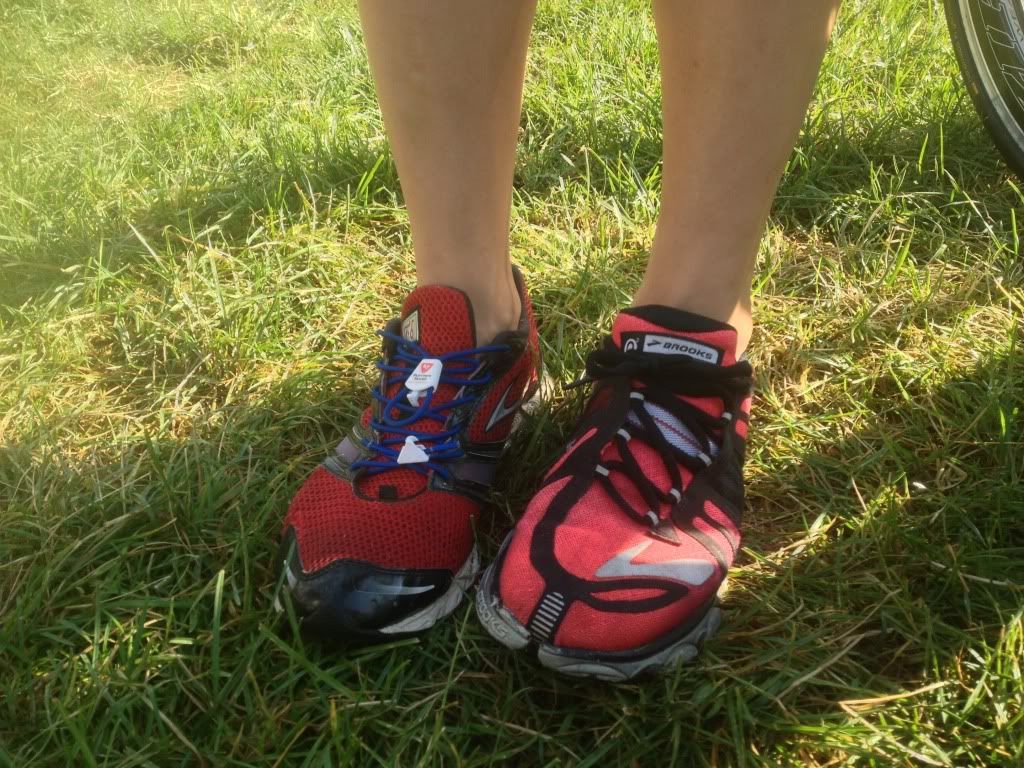 I'm wearing mismatched shoes at Hy-Vee. Obviously it makes you faster.
It took a little while to get my results because, for the second time this weekend, somebody thought I was a pro. Evidently there were a few of the elite amateurs that were initially written DQ penalties for wearing wetsuits because our bikes were racked right next to the pros, and it was a non-wetsuit swim for them. I thought that was funny.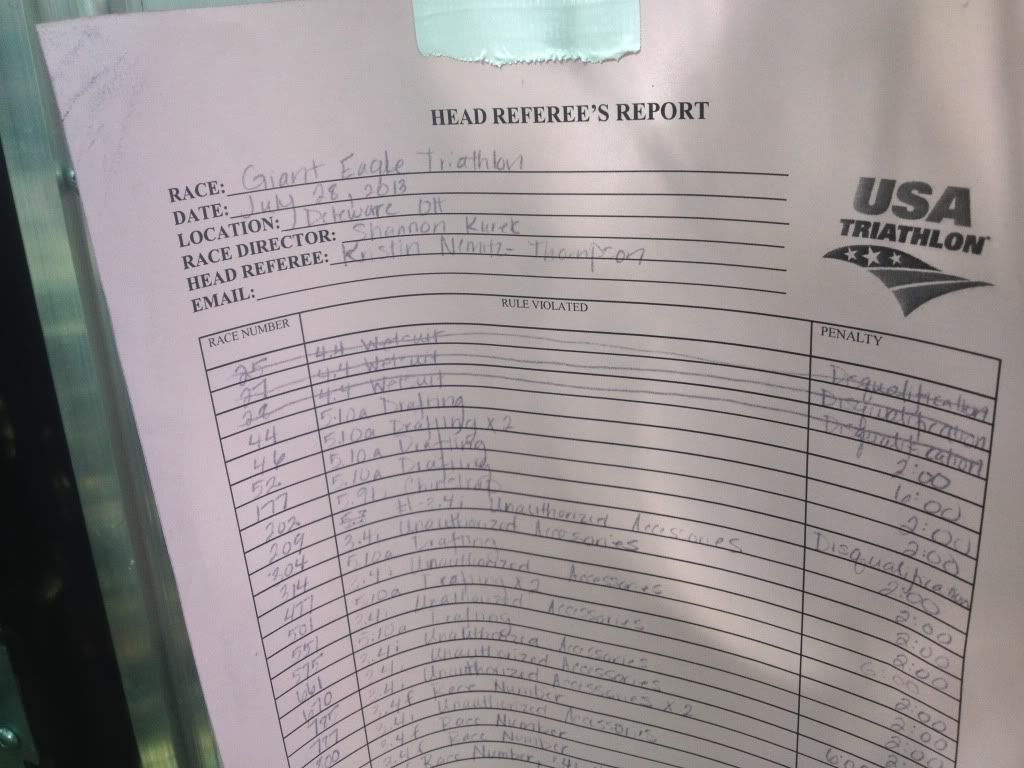 In hindsight, it should have just been a feel sorry for us if we really were pros and were coming out of the water 9-12 minutes back of the real pros like we did.
The star of the day, Brewers sausage race tshirt and all
Afterward, we got breakfast and Bailey approved of my almost-gluten-free choices, then decided on the spur of the moment to go to the zoo. Zoos are amazing, even with the children there. The thought never even crossed my mind to push any of them into the polar bears' tank. I swear. Bailey and I decided to anthropomorphize
and write life stories for nearly every animal.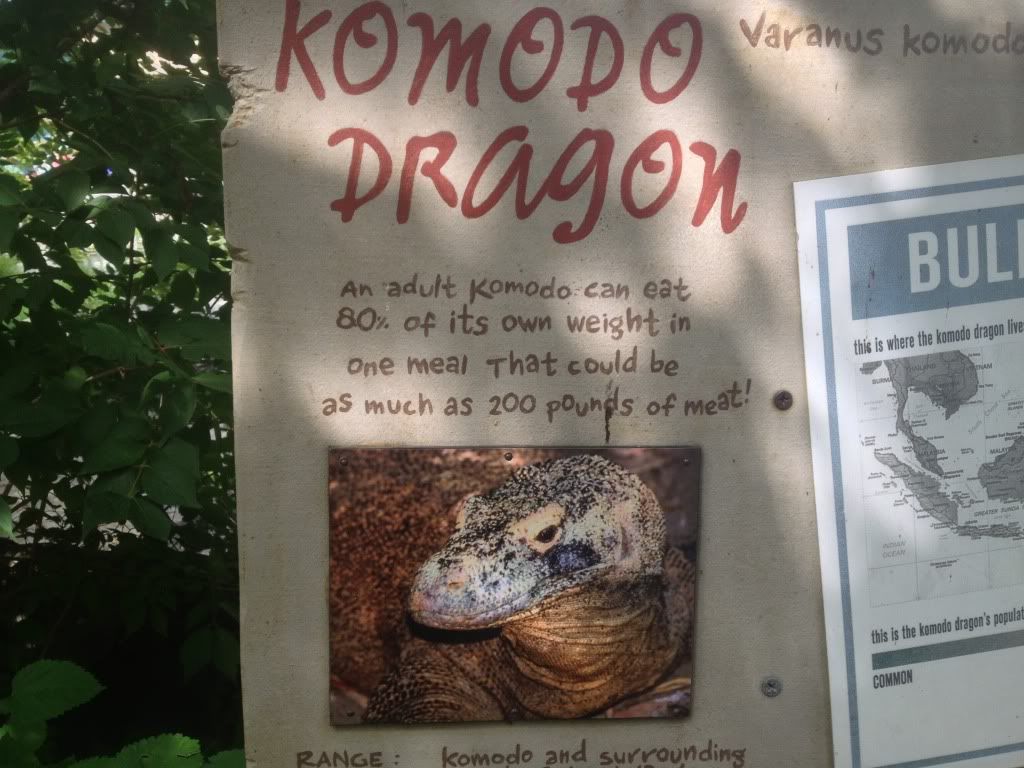 I'm pretty sure I do this every time I go to a Brazilian steakhouse. It's really not that impressive.
I think Caesar (who made an appearance in my blog about XTERRA Jersey Devil) weighs more than this guy. This guy may be a bit more vain, though.
With their ridiculously broad shoulders and long arms and comparatively short legs, orangutans would be phenomenal butterfliers. The staff member at the zoo didn't understand why we wanted to know if orangutans can swim. Of course he's not shaved and tapered in this photo, though. It's dual meet season for him.
Orangutans may be great butterfliers, and I may have be the same size as one, but trust me, I cannot swim more than 25 yds of butterfly. I wish I was still in the 8 & unders though; 25 fly would be a prime event for me.
After the zoo, we had dinner, then got fro-yo (because when Bailey and Ian are together, there will be fro-yo involved).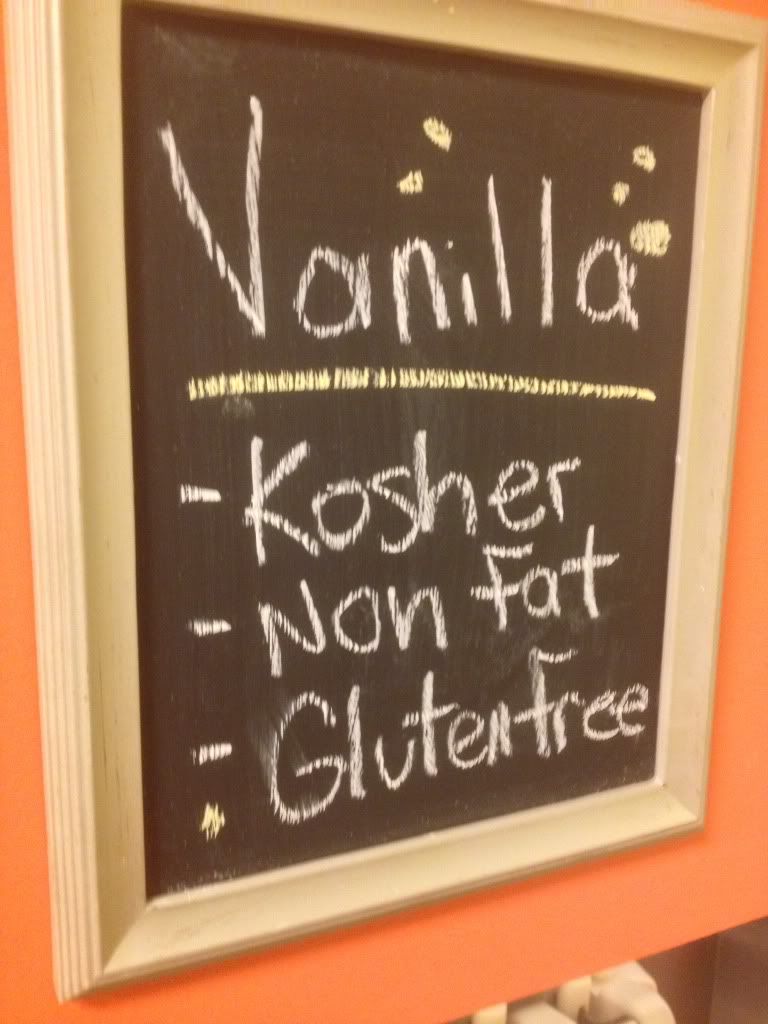 Vanilla, kosher, nonfat, gluten free fro-yo: better known as air.
The next day, I drove home. It wasn't as much fun the second time, especially once I got the nice "welcome back to Hampton Roads. There's one tunnel blocked, another one backed up, and the bridge has construction on it during rush hour." Less than two weeks til Age Group Nationals! (well, less than a week since I suck at posting this within any timeframe of relevancy)