An awesome weekend/race for sure. I spent some quality time in Wisco with Bailey's family, had a pretty good race all around, realized just how damn fast my age group is, got outrun by Bailey, then spent more quality time in Wisconsin. I also learned that no matter how much money you save, it's not worth driving 4 hours to the airport for a 2 hour flight.
So I left Wednesday mid day to drive up to DC for my flight. It was a direct flight on Frontier (super bike friendly as I don't have to pay any fees as long as it's under 50lbs), and it was way cheaper than trying to fly out of Norfolk, Newport News, or Richmond (torturous as it was to pass the exits for all three of those airports on my way up to DC, each time sitting in traffic ironically enough). I didn't really think about the increased parking costs or gas to get there. I think monetarily it works out still, but my time is worth something, especially when as I write this from the Madison airport and my flight is delayed, not due to arrive until probably 8pm. I can't wait to get home at midnight.
Thursday was nice and mellow, except for the 2 hours it took to put my bike together. Nose cones like the one on my Giant Trinity Advanced are awesome when you're moving and they're breaking the air faster than a not-nosecone, but they suck when you're putting together or taking apart your bike. Then I went for a swim at the lovely Fond du Lac YMCA and resisted all urge to play on the slide shaped like a fish in the kiddie pool. Bailey was at work so I drove down to Milwaukee to pick up her friend Hannah, who was staying with us for a day until her parents got in the next day. We had a nice little tri colony going at Bailey's parents' house, with boxes and parts and bottles all across the garage.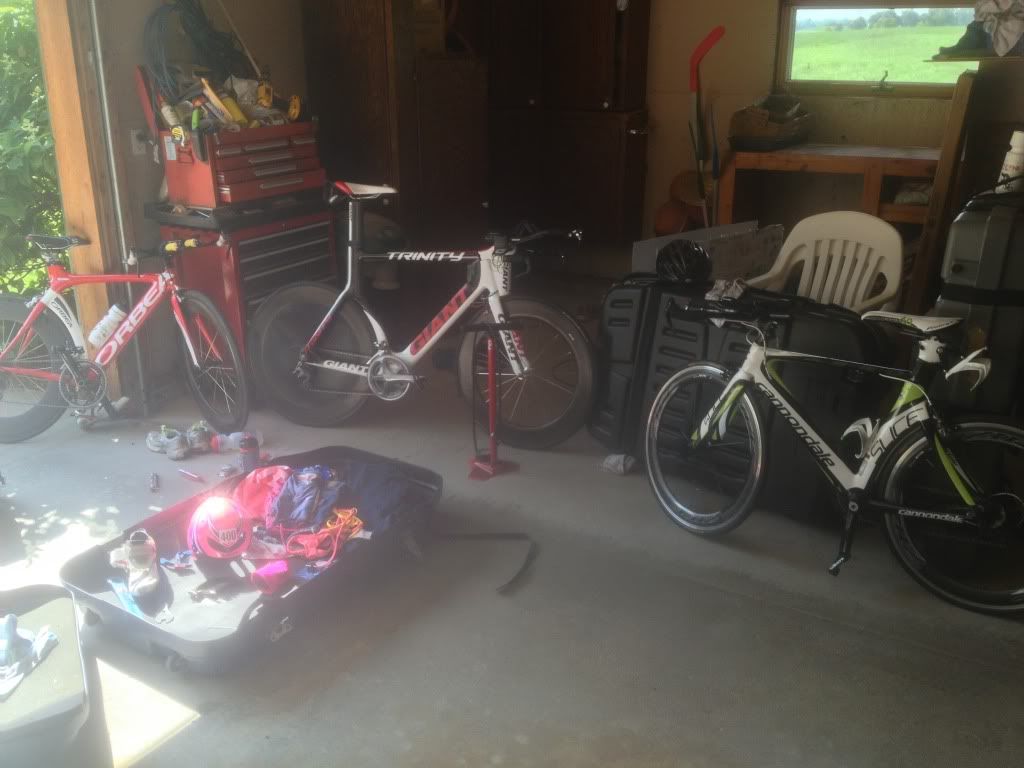 Fond du Lac: The next Boulder? (I expect that to be a headline in Triathlete within the next year.) To be fair, the Tour of America's Dairyland does go through Fondy, as it's known to locals.
The next day the three of us packed like sardines including all of our stuff into the little Outback and headed down to tritown Milwaukee, home to the largest concentration of compression socks and tattoos with numbers and corporate logos for the weekend. We played around in the water, where I finally conceded to Bailey that the Great Lakes are a real thing, not just ponds. During my live-audience deck change, though, I realized that my suit is see through. Normally that's not an issue because I wear a drag suit at swim practice, but I wasn't. Oh well. There weren't that many small children around.
As soon as we were done, I got out of the suit and into some running shorts. I figured I'd best minimize the amount of exposure.
I did my normal pre race thing, including getting in on the Normatec space boots while Bailey and Hannah waited in line to meet Chrissie Wellington. Finally we made it back to Bailey's cousin Jackie's apartment a few miles from transition, and we set up the luxurious kind of leaking air mattress in the living room, put on the number tattoos, and went to bed.
Race morning was a humane wake up of 5:30 before we were out the door and on our way to pick up Steve and Tess, two of Bailey's CSU teammates. We were down in transition by 6:40 or so when I realized I'd forgotten my two water bottles for the bike. Fortunately I brought a third to drink out of before my 10:12 wave start, so I put that on the bike and was thankful it wasn't too hot. Then I waited around FOREVER. I thought I packed enough food, but I was getting hungry. Fortunately I think I was just on the low end of ok starting the race.
The swim started off reasonably well, I was off to the left with a straight, clear line to the buoys, but I quickly found I was losing the feet of some of the swimmers around me within the first couple hundred meters. I clawed my way back through the field for the bulk of the race as usual, exiting in 20:09, which seems about right/what I would expect, maybe a little on the slow side. I went as quick as I could through T1, which was fairly uneventful, out onto the road for the bike. I got going early and took a little ways getting into my shoes, trying to do it while losing as little momentum as possible by getting up to full speed on the flat first couple miles. This didn't, however, stop the ego-driven 45-49 year olds that were nearby from repeatedly sprinting around throughout the first mile or so of the bike despite the fact that they were already 10 minutes behind. No need to keep burning matches because you're mad you swam 30 minutes for a 1500. The first couple miles I was fairly stationary within my own age group and picking off riders from waves well in front of me at a fairly steady rate. I wasn't too far back of one or two riders I could see up the road. Somewhere about 2 or 3 miles into the course, Steve Mantell (one of Bailey's teammates from CSU who went on to win our AG and finish 2nd overall) and Justin Metzler both passed me like I was standing still. I knew Steve was a LOT stronger than me on the bike, but I have only ever raced Justin in draft legal, so I thought I could maybe key off of his pace. Then I realized if I did that, I'd have no problem riding under an hour for 40km, but I very well may not break an hour for 10km afterward. I saw Gil from UNC at the first turnaround and saw he was within reach or so I thought, as I have swam and ridden with him in draft legal races in the past, but I never quite got there. I probably could have gone a bit more into the red to go ride up to him and others, but I was also trying this novel idea of pacing so I don't have a melt down on the run. Previously I've just used feel, which has led to a 48 minute run split in the past, so I decided that's not an enjoyable way to race. The rest of the bike was fairly straightforward, dodging some of the sketchier riders from earlier waves, though it was rarely much of a problem. I definitely had a bit of a mental lapse and possibly fell asleep leading into the second turnaround because I realized I was going pretty slow and my heart rate was well below what I was targeting. After the turnaround I picked it back up, finally picking off a few more riders from my age group, but within the last two or three miles, several of us all sort of converged, jockeying around for position on the final climb up the bridge and then down and into T2. I got in and out plenty quick, passing narrowly around one of the other guys I came off the bike with. On with the flats and out onto the run I went with absolutely no clue of my placing, but figured I was in reasonable shape with a bike split of 59:44 (though at the time I just knew it was somewhere between probably 58:00 and 1:000:30ish, depending where the mats were).
I went out and didn't feel absolutely spectacular, but I tried to think of that as a positive, because I looked down and I was still moving along at a respectable pace through the first half mile, but I wasn't tempted to accidentally run like Alistair Brownlee like I've been known to do. I still felt like I got passed left and right the whole run, and I definitely did. I don't know the exact placings, but rough math based on splits, I'd guess I dropped somewhere about 15 placings on the run within my age group. All that said, this was my second fastest 10k of the year, and off of a much harder swim and bike than I did at Giant Eagle. I faded a bit in the middle 2 miles as I frequently do, but started to rally a bit before the 4 mile mark. Every so often somebody would pass me and I'd think twice about maybe just going for it and trying to hold onto them, but it was usually obvious that doing so would be a terrible decision. At one point though, two athletes caught me shortly before the 4 mile mark/final turnaround and I stayed right with them. I was happy that finally somebody was running a pace that didn't seem superhuman. Still, they gapped me a bit heading into the turnaround/aid station. I kept just behind them though, and with less than two miles to go tried to launch something of a final go, passing one and fighting back up to the other, Ryan Siebert who was in my age group. I still didn't know where I was place wise, but I thought I was probably on the cusp of being able to qualify for worlds. I started to fade again within a half mile of trying to pick it up, but shortly after I reached the 5 mile mark I made a deal with myself that it couldn't hurt any more than the 2km repeats I'd done earlier in the week. It was a bit of a downhill into the finish, so I just tried to let my legs go as much as I could. I saw Bailey who was out cooling down when I had probably less than half a mile to go, but I couldn't really acknowledge her at all because I was barely able to see straight and just wanted to see the 6 mile mark. I caught Ryan and came around the slight bend to where I could finally see the finish, but it was like an optical illusion that seemed to stay the same distance away. I had no idea how much I'd gapped Ryan, so I kept going. Bailey's parents said they saw me come through with about 300m to go, and I think I remember hearing somebody cheer for me, though that's about the extent of what I remember from the finish chute. Strangely enough though, I have the distinct memory when the course veered off the sidewalk and onto the grass shortly before the carpeted finish chute. I thought "oh good, I already sprinted enough, because I don't want to sprint anymore on soggy grass." I vaguely remember crossing the line and asking to sit down because I could barely stand, and eventually I was laying down in the med tent with ice packs being shoved into my race suit because I was slightly overheating even though it was only in the upper 60s.
Me in the med tent.
Eventually I was able to think about what had happened, and frankly I don't remember pushing the finish of a race that hard, which ended up with a 40:21 run split and a 2:02:48 overall time, good enough for 101st overall (GRRRRRRR) and 29th in my age group. After the age-up rule I am sitting 23rd for worlds for next year, which means I am at least eligible for a spot if a couple people decline. Bailey outran me again, this time by almost a minute, on her way to a 4th place AG and 8th overall finish!
Take a wild guess who had just left the med tent and who had finished over an hour ago
I'm pretty happy with my race for the most part. Of course I can improve on things like my swim start, maybe pushing the bike a little more, and not fading the middle of the run, and I would like to have done a lot better, but if I think about it, this race shows some huge progress. In 2011 (I flatted last year and got stung by a bee on the run, so that doesn't count) I was something like 45th in 20-24, and I know it's gotten more competitive since then. A 2:02 is also (I believe) the fastest I have gone in an Olympic, barring Giant Eagle and Armed Forces Champs, both of which were short courses, so that's also a plus.
The rest of the weekend involved the 14 hour long awards ceremony and spending some more time with her familia. We went out in Milwaukee with her cousin the night after the race, which was lots of fun, but I never did find a place that offered dairy-based beer. I was pretty disappointed in that. I can't imagine anything more Wisconsonian than cheesebeer.
Of course she wears a sundress on the podium
The next day was a little more mellow, as it always seems like it takes forever to unpack from a race and doubly so when you also have to repack to fly like I did.
I flew back Monday, back to DC on a delayed flight, which is when I wrote the majority of this (but kept forgetting to proofread/check it over/find photos which is why it's taken a week to publish), then drove a less than fun drive back to Va Beach. After a nice little welcome back reminder of just how miserable southeast Virginia is to drive, I was ready to go to work the next day and keep training straight through until Hy-Vee!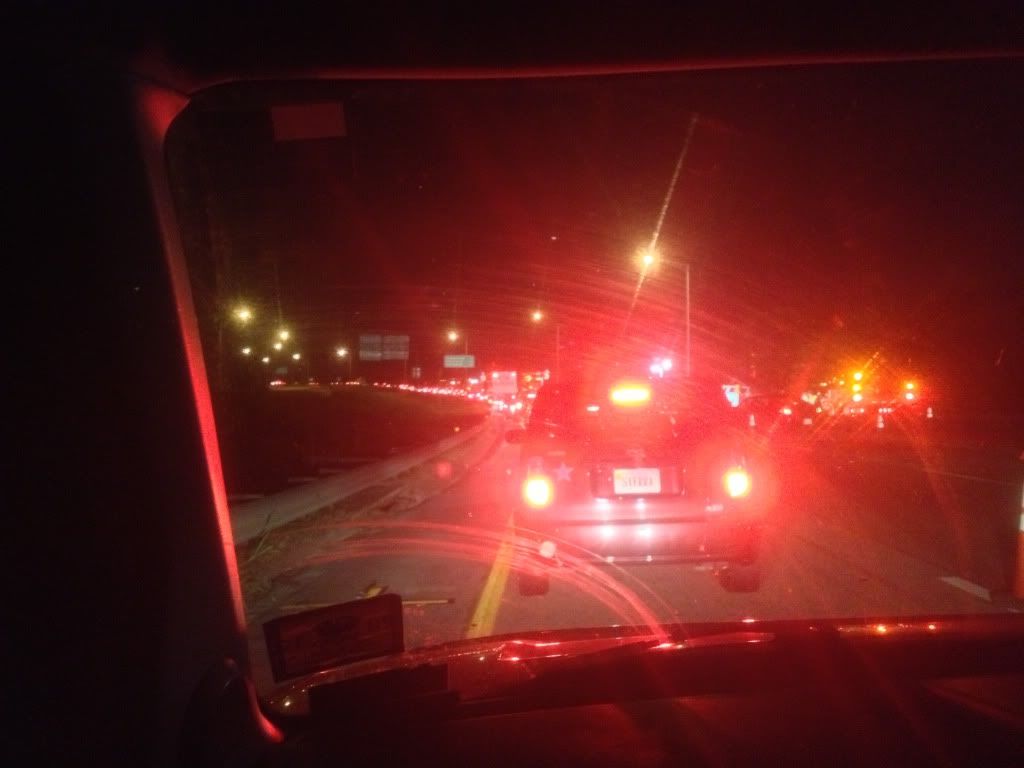 Because this is representative of the traffic flow at MIDNIGHT! For what it's worth, I had my car turned off at this moment because I hadn't moved in over 2 minutes. Way to go, Hampton Roads, way to fricking go.