Background and explanation:
I'll be honest; I'm not 100% sure how I knew that this race existed. To some degree, that's a large obstacle in even participating, as it's on a base, a small field, and is pretty much invitation-only. However, it offers the possibility of representing the USA at the World Championships or even the World Military Games (like the Olympics, but for people in the military). Simply being at the start line as a scoring member of a team requires selection through the specific service. In my case that meant the Navy, because the Coast Guard doesn't have its own sports program. With 10 men/6 women per service, this race crowns the individual and team champions. The race is pretty stacked despite the small field, including a handful of current and ex-pros, as well as quite a few could/should/will-be pros. A large portion of the athletes here seem to focus more on long course stuff, but the talent is certainly there regardless. It's an awesome time, and since hearing about it and talking to people who had raced it in the past, it was definitely something I was looking forward to.
Prerace fun:
I admittedly was a bit cautious and wary traveling across the country after the issues I had with my back recently, but I suppose I didn't have a whole lot of a choice. I was one of the first from the Navy team to arrive at LAX, shortly after Rachel Beckmann, one of the other coasties on the team. We all trickled in before there were enough of us to make the drive up from LAX to Point Mugu. If I remember right, that took somewhere around 2 1/2 hours of awesome greater LA traffic. In the few days before the race, we all got in some good swims, rides, and runs. Our top guy, Derek Oskutis, was beyond helpful trying to teach whatever sort of team tactics he could in the days leading up to the race while out riding the course. There definitely was a lot more to it than my previous attempts at draft legal racing, as now we had a true team sport, as opposed to a loose collection of on-the-road alliances. Most of the other guys had been on the team for a few years or had been off and on; I was one of only a few total newbies. The off and on nature of people's membership to the team is a fundamental fact of this race: many of the best or best potential triathletes in the military are unable to make it due to commitments involving deployments or just lack of ability to train well enough to race. I certainly had one of the most low-key jobs except the couple of people currently in grad school. It was definitely a lot of fun having teammates again though. I missed that from being in school. There was always somebody up for a little swim, ride, run, or to borrow a foam roller, go get something to eat, etc.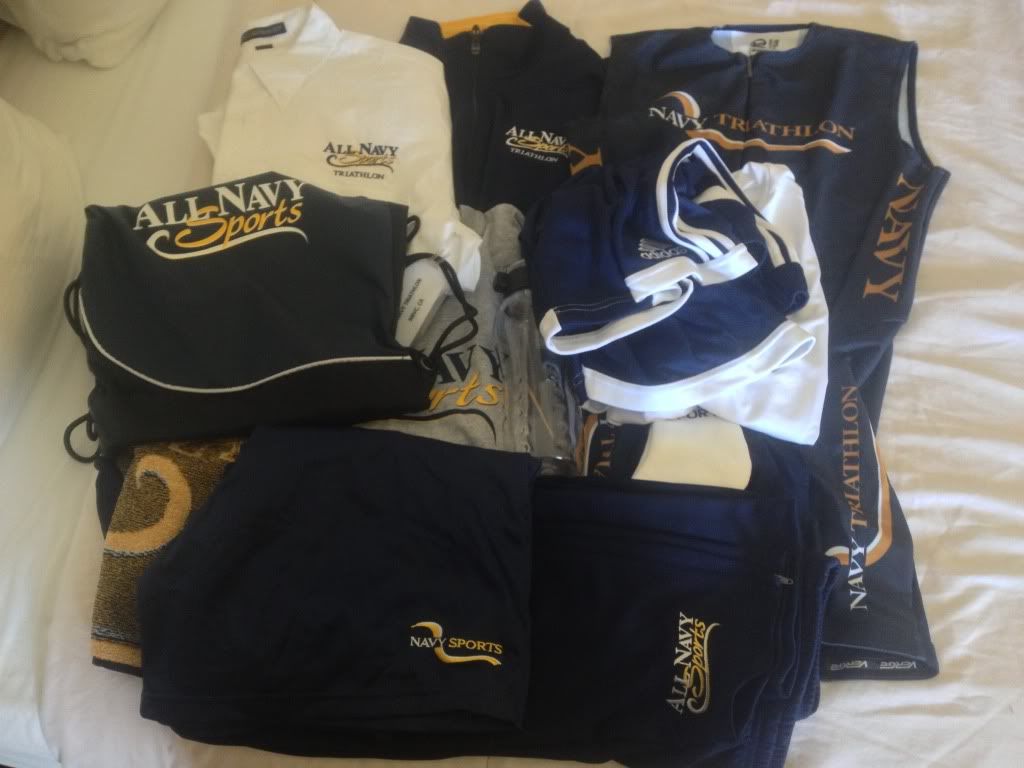 Free stuff!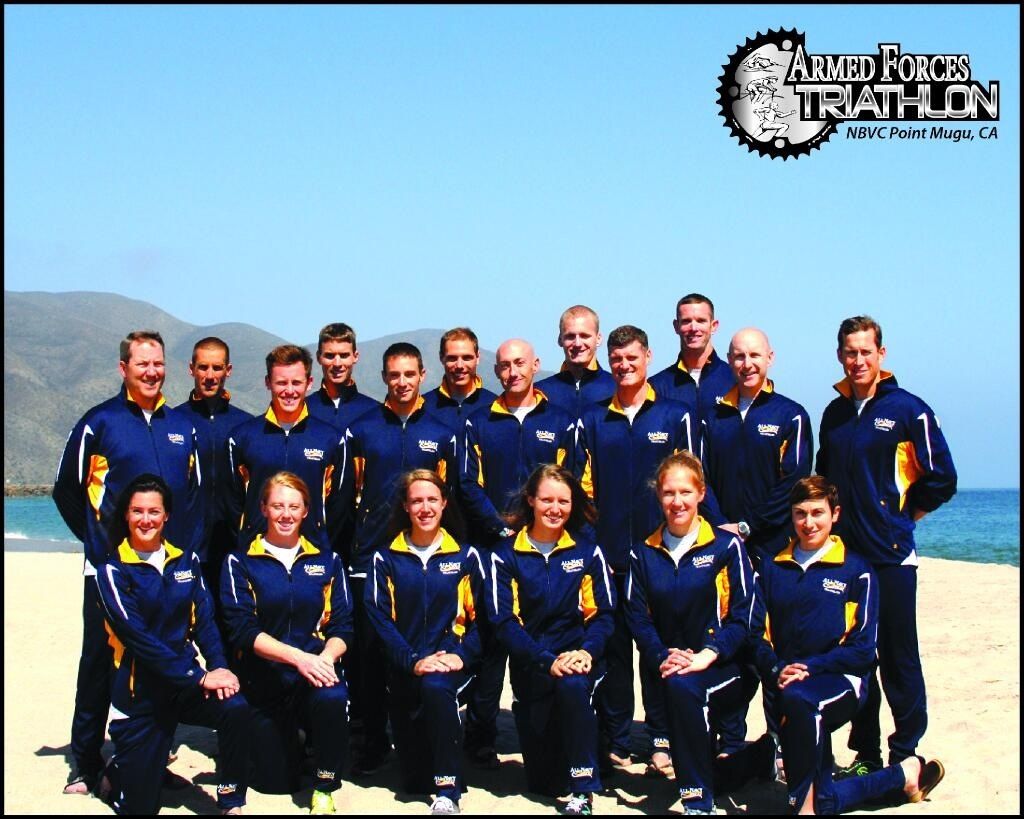 I love racing with a team again. Also, see just how GORGEOUS the venue is.
Race day:
Race morning came and I felt like it was definitely a day where I had a good race in me (oh how that was wrong!). We were in the hotel right at transition, so combined with the humane start time of 9am (0900 for the people who care to remind me that this was a military race), it was a really nice race morning. I got in my warmup blah blah blah I ate something for breakfast; I honestly don't remember what.
So the swim wasn't as cold as everybody talked it up. It also wasn't as choppy or rough as I expected, but I later found that the Pt Mugu surf spot was just around the corner and we were in a fairly sheltered cove. I lined up fairly far to the right because I wasn't paying attention when they started calling us up to the line. It worked well though, because the current pretty much pushed me right into the pack near the turn buoy. As expected, I had to surge a little near the 400m mark to keep the elastic from snapping. I realized as I got out of the water between laps that I was in a little bit of no-man's land between packs, but within grasping distance of the next group up, so I tried to start hard on the second lap to bridge, but I forgot just how damn tiring going in and out of the water can be, and I was pretty sure I was going to have a heart attack the whole second lap.
Leading a pack out of the swim in between laps
It turns out everybody else thought the same thing, because I latched just barely onto a pack right before exiting the water. I sprinted as hard up the beach as I could, knowing I'd have my work cut out for me to make that group...and hey I had the second fastest T1, only behind Derek :)
While I may not have been in the transition area that long, the act of that first mile or so of a draft legal bike is as or more important and effectively part of the transition. That was some of the advice Derek gave the day before, just how important that was and how it would likely make or break the race, so we tried to work on it a bit. Well, it broke my race. Damnit. I tried to gun it out of transition as much as I could, and there was a pack just up the road containing James Bales (one of the pre-race favorites from AF), Nick Sterghos (a pre-race favorite from Army), and at least another Army and AF athlete, while I just had Tommy and Derek up the road from them. Had I gotten into that group, I would have been able to be a nice little passenger and just slow the group down to keep my two guys up the road and possibly let anybody behind me bridge up. Well, that didn't work after about 3/4 of a mile, and I looked over my shoulder and saw a couple of athletes probably :10 back. I sat up and finished getting into my shoes, making sure I was ready to rock once they caught me. It was two Marines, Sean Sullivan and Mike McFerron, and after trading a couple of pulls they asked if I was willing to work to catch the group up the road. I said "yeah, absolutely; it's a bunch of Air Force guys up the road in that group," referring to the fact that Air Force was probably our biggest team competition. I was really hoping we'd be able to make up the gap within a lap or two so we'd be able to finish up the ride in a larger group and I could hide in the back. Eventually one of my teammates, Cam Loos bridged up about the halfway mark of lap one. With it 2 Navy/2 Marines at this point, the workload changed a little. The last 1/4 of the first lap I took a bit too big and long of a pull into a headwind and decided I was going to need a little bit to recover, so I went to the back and stayed there, skipping a couple of pulls. I gradually skipped more and more and more. I was never completely useless, but most of the pulls I did take were usually on straight, flat tail wind sections of the course. To their credit, all of the other guys in the group were pretty encouraging; I guess they figured 3.25 guys is better than 3, and it was safe to assume that I wasn't going to run very well. Also, at one point I started to notice that Cam was helping to keep me in the group by occasionally taking a slightly slower pull. I later found out that he'd gotten a word not to chase because we had our two guys up the road. Letting our group just dangle for the monstrous chase pack behind us would hopefully tow up some of our athletes in it while letting the AF guys who were driving that pack burn up their legs. Either way, those two Marines basically just pulled us around. I doubt they knew at the time that I'm in the Coast Guard and not the Navy, but I think we can consider it at least a partial repayment for Douglas Munro. (I'm kidding. Well, I'm pretty sure I am. Then again, Douglas Munro was, like me, playing for the Navy team at the time, albeit in a bit harder of a fight...)
I swear I took at least a couple pulls, but for the life of me I can't find any photographic evidence. Lesson learned: if you're a total passenger to your bike group, at least take a pull going past the transition area.
On the last lap we noticed that the group behind us was making up a significant amount of ground. Cam suggested that I try to attack one last time to get a few more seconds. I "attacked" but my Garmin didn't seem to agree with me. I didn't really go any faster, so really I just burned one last match, basically solidifying that this was going to be a miserable run. I did, however, give a bit more of a block to the two Marines to allow Cam to get even more distance on them when he attacked.
Our once neat little four-man group spread across the road as Cam and the Marines decided to throw one last attack with about 400m to go. You can just barely see the huge chase pack that would drop me from about 8th to probably 20th within 1/4 mi of the run.
I had the fastest T2! Yay! (For those keeping track, yes, I did have the fastest combined transition time. I wish this was Collegiate Nationals where you earn a prize for that) That was about the end of the positives for that day for me, at least. That run was a STRUGGLE. Immediately I started getting passed again by my bike pack and the people from that big chase group that nearly swallowed us up, including Bailey's coach, Mace, who ran his way into 6th...damn altitude... Every so often I'd get swarmed again by the lead runners from a later bike group, then gradually the still-faster-than-me-but-not-super runners would pass me. I tried everything from shortening my stride to working more of an arm swing to pretending to sprint, and none of it seemed to enable me to run any faster than the barely 7 minute pace I was holding. By the time I got to my second lap, I was starting to get passed by women who were on their first lap. I was well ahead of them in the race, but they were running faster than me at the time. One of the women on our Navy team told me she wanted to be encouraging, but decided that saying anything would probably be demoralizing. I think she's probably right.
Not at all a flattering picture...I think this captures just how much I wanted to die for that 42:26.
Once I realized I was in 9th for our team and well behind the 7th place Air Force athlete, I felt a bit of a relief, as my horrendous results had less of an impact on the overall race. The top 7 score, and our race with Air Force was probably going to be so tight that the tiebreaker 8th place could have very well come into play. Ultimately, I finished in just a hair over 2 hours, in 29th place out of 47 men, and on 9th on the Navy team.
Never have I been so happy to see a big red inflatable
I can't say I was entirely pleased with my own result, but:
#winning #yesimadethisphotolargerthanalltheothersonpurpose #bloggerdoesnthavehashtagsandquitefranklypeoplewhousehashtagsoutsideoftwitterandinstagramaresilly
And in case that's not 100% clear what color that is:
The Navy women also won, making it their first time ever finishing higher than third, so obviously the first time Navy had won both sides. I'm not sure whether perhaps one of the other services has ever done that, but I'm a bit too lazy to sift through the old results. One of the more seasoned veterans of the race probably knows the answer to that anyway. Unlike Collegiate Nationals, there is no combined overall champion, but if there were, we obviously won it. Both sides were crazy close though, the men's was one point (that actually was the result of a Marine displacing AF's seventh athlete), and the women's was decided by only two points, so all the more reason that every little bit of team tactic racing helped.
So in my "learn to stop screwing up" fashion, that first mile of the bike is super important. So is sprinting hard up the beach when your heart rate is 384937 bpm after swimming and body surfing and dolphin diving. So is starting out the swim with the group rather than playing catch up the whole swim. Most important and obvious though, is just how damn important the running is. It doesn't matter whether we're looking at draft legal, XTERRA, Ironman, or even your local sprint. Hell, I should know better. The only times I've ever won a race, I actually took the lead on the run, one of which I even had the fastest run split. There was once a time I could run well, and obviously biking a 54 (even if it's draft legal and on a slightly short course, that's still crazy) is not exactly a recipe for success on the run course for me at this point. Nevertheless, I do take some solace that even though I didn't even score for our team and I was pretty much useless in my bike pack, I do think my occasional pull and simply just being there allowed for better positioning of other members of our team. That being said, I'll repeat myself again and say that if I made that second group (the one that I just missed), I still may not have had a spectacular run, but I would have been farther up for a head start and I probably wouldn't have died quite as hard from not riding as hard. With all that I've learned about this race though, I'm really looking forward to it next year and really hope I get the opportunity to race again!
At this point my season is going to kind of mellow out a bit and I'm going to try to focus big on the second half of the season. The first part has been a bit plauged by subpar racing and injuries, so I'm trying to snap out of both of those. Realistically I haven't had a solid block of training since probably February, so I need to do that again.
Everybody who raced, including Les Canadiens.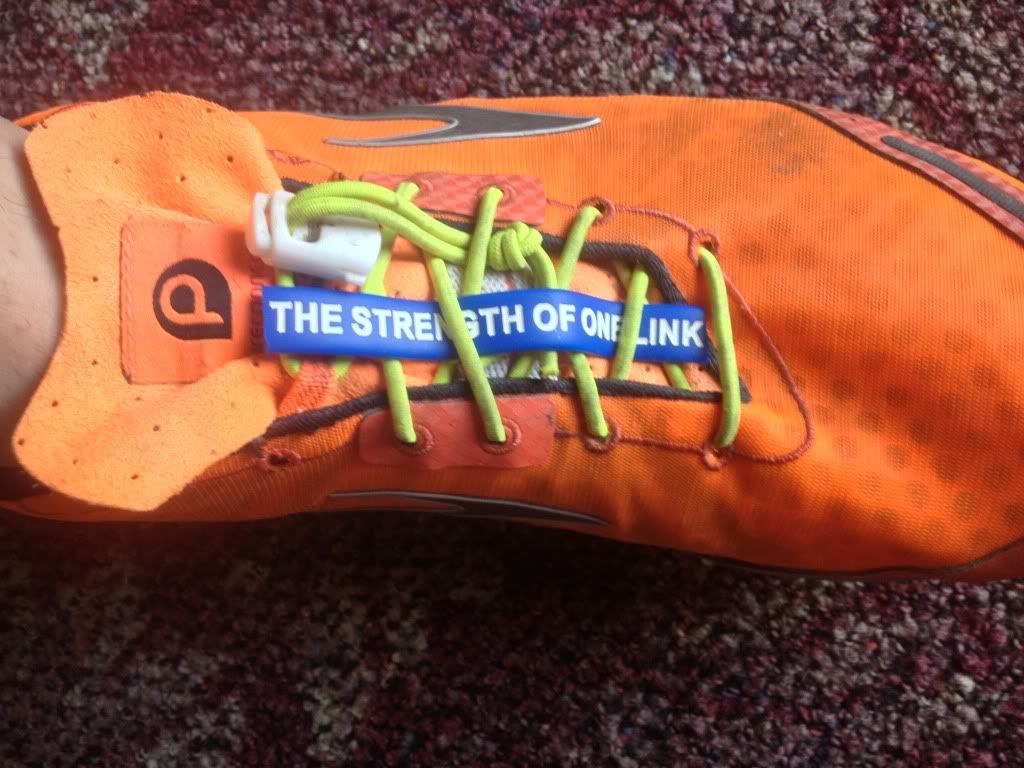 I decided to bring Kenny Link, my classmate from USCGA, along on the run with me. Kenny passed away during our 3/c (sophomore) year after complications resulting from a time when he collapsed while running at home over the summer. While Kenny wasn't a triathlete, I did run one year of track with him, and he was also in my company/lived right down the hall. Our class had these bracelets (mine broke a few months ago but it had been sitting on my kitchen counter ever sine) made up actually before he passed away and the saying is borrowed from the Fifth Law of the Navy, one of the many old, seemingly silly sayings we have to memorize as cadets. The entirety of it goes "On the strength of one link in the cable dependeth the might of the chain. Who knows when thou may'st be tested, so live that thou bearest the strain!" While many of the other racers had been far and wide defending our country and I've generally just been here, there's a certain fraternal connection that is hard to explain to somebody outside the military, which is why, to me, it seemed appropriate to bring Kenny along. Plus, I was also hoping, you know, he'd let me borrow some of his speed. Maybe next time he will.